We are delighted to announce that Dr Leanne Gilbertson (University of Pittsburgh, USA) has joined the Environmental Science: Nano team as an Editorial Board member.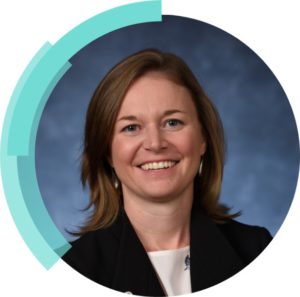 Dr Leanne Gilbertson is an Assistant Professor of Environmental Engineering at the University of Pittsburgh. She joined the Department of Civil and Environmental Engineering in the Fall of 2015 and holds a secondary appointment in the Department of Chemical and Petroleum Engineering. Before joining the faculty, Dr Gilbertson was a postdoctoral associate in the Center for Green Chemistry and Green Engineering at Yale University where her research established and validated structure-property-function and structure-property-hazard relationships for engineered nanomaterials. She received her MS and PhD degrees from Yale University in the Department of Chemical and Environmental Engineering, supported by the NSF Graduate Research and EPA STAR Fellowships. She received her bachelor's degree in chemistry with a minor in education from Hamilton College, after which she spent several years as a secondary school teacher before returning to graduate school.
Dr Gilbertson's research group is engaged in projects aimed at informing sustainable design of emerging materials and technologies proposed for use in areas at the nexus of the environment and public health. They work in the areas of sustainable agriculture, water treatment, and combatting antimicrobial resistance. Dr. Gilbertson uses material chemistry manipulations to elucidate guidelines for how to control nanomaterial design with the intent of simultaneously enhancing their functional performance while minimizing their adverse impacts. In this work, she focuses on carbon nanomaterials (CNTs, graphene, and carbon nitride) and metal nanoparticles (Ag and Cu). Dr. Gilbertson also has expertise in life cycle assessment (LCA), which she applies to evaluate tradeoffs of emerging nanotechnologies. The results of these analyses are used to inform sustainable development of promising technologies. Her research is supported by the National Science Foundation, 3M non-tenured faculty award, and the Ralph E. Powe Junior Faculty Enhancement Award.
To find out more about her research group, please visit www.leannegilbertson.com and follow her on Twitter @lmgLab.
Leanne says: "My experiences with Environmental Science: Nano, as an author and reviewer, have always been incredibly positive. It is a great community of scholars striving to ensure that our field publishes high quality research. Environmental Science: Nano is my 'go to' source of reliable, cutting edge research in environmental nanotechnology. It is an honor to serve on the Editorial Board and I look forward to working with my distinguished colleagues at the journal."