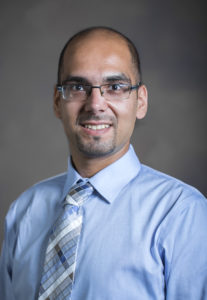 Dr Amir M. Farnoud obtained his Ph.D. in Chemical and Biochemical Engineering from the University of Iowa in 2013, followed by post-doctoral training in Microbiology at SUNY-Stony Brook in 2015. He joined the department of Chemical and Biomolecular Engineering at Ohio University in 2015 where he is currently an Assistant Professor. Dr. Farnoud's research is focused on biological interactions of engineered nanomaterials, primarily their interactions with the cell plasma membrane. Outside of research, Dr. Farnoud is an avid chess player and is the former state champion of the state of Iowa. Read about Dr. Farnoud's research and follow him on Twitter.
Read his Emerging Investigator article "Interactions of Engineered Nanomaterials with the Cell Plasma Membrane; What Have We Learned from Membrane Models?" and find out more about him in the interview below:
Your recent Emerging Investigator Series paper focuses Interactions of Engineered Nanomaterials with the Cell Plasma Membranes. How has your research evolved from your first article to this most recent article?
My early work as an independent researcher, as well as my graduate work, focused primarily on nanoparticle interactions with lipid monolayers as a model for the pulmonary surfactant. The first article out of my lab, in which we examined the interactions of e-cigarette vapor particulates with the pulmonary surfactant, was focused in this area. However, I have gradually become more and more interested in nanoparticle interactions with the cell plasma membrane. I have noticed that while a number of mechanistic studies on nanoparticle-plasma membrane interactions exist, they have primarily focused on changing particle properties while using simplistic membrane models. In my group, we have focused on not only on the role of nanoparticle properties, but also on understanding the role of the membrane model in regulating nanoparticle-membrane interactions. This has started from our earlier work (Asghari Adib et al. Environmental Science: Nano, 5 (2), 289-303; featured on the cover of ES Nano in February of 2018) in which we compared different membrane models in how they interact with nanoparticles, to the current Emerging Investigator article, to our work in progress in which we have used slightly more complicated, but more physiologically-relevant models.
What aspect of your work are you most excited about at the moment?
We have found that by making the membrane model more realistic, we are able to better predict nanoparticle toxicity to live cells. This is very exciting because it will help in the prediction of the toxicity of novel nanomaterials toward biological entities.
In your opinion, what are the most important questions to be asked/answered in this field of research?
I think a better understanding of how findings from membrane models can inform studies in cells is really needed to move the field forward. While models are very useful to tease out the underlying phenomena governing nanoparticle-membrane interactions, it is important to make sure that findings from models will be relevant in cells. This is probably something that can only be addressed by parallel studies, which examine both membrane models and cells. In addition, I think the role of the biomolecular corona in regulating nanotoxicity is something that researchers have rightly focused on and will continue to remain an important question in the future.
What do you find most challenging about your research?
When I was a graduate student, I was told that "novel research is often focused at the interface of two fields". That statement is generally true, but working at the interface of two research fields is never easy, there is always something on the biological side or the material side that we don't know and need to learn. While this is enjoyable and part of the natural growth process of a researcher, it can also be challenging and frustrating at times!
In which upcoming conferences or events may our readers meet you?
I am expecting a busy year in terms of conferences. I am planning to be at the 2019 Annual Biophysical Society meeting, the Spring 2019 ACS National Meeting, and the Gordon Conference on Environmental Nanotechnology.
How do you spend your spare time?
Most of my free time is devoted to improving my chess skills. I also enjoy running and physical exercise. My wife and I also like to try different cuisines and coffees from around the world.
Which profession would you choose if you were not a scientist?
Probably a professional chess player. I have always been amazed by the beauty and complexity of chess and I am still considering this as my post-retirement career!
Can you share one piece of career-related advice or wisdom with other early career scientists?
Most of early career scientists probably already know this, but it is worth repeating: Hard work always beats talent! The world of academic research can be full of rejections, from papers to grants. As an early career scientist, it is important to stay resilient in the face of difficulties, keep your motivation high, and work hard. All shining stars in all fields of research started out as early career scientists!