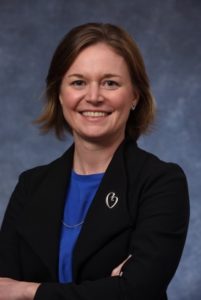 Dr. Gilbertson is an Assistant Professor in the Department of Civil and Environmental Engineering at the University of Pittsburgh. Before joining the faculty, Dr. Gilbertson was a postdoctoral associate in the Center for Green Chemistry and Green Engineering at Yale University where she focused on elucidating and validating engineered nanomaterial structure-property-function and structure-property-hazard parametric relationships. She received her MS and PhD degrees from Yale University in the Department of Chemical and Environmental Engineering, supported through an NSF Graduate Research and EPA STAR Fellowships. She received her bachelor's degree in chemistry with a minor in education from Hamilton College in 2007, after which she spent several years as a secondary school teacher before returning to graduate school. Her research group at the University of Pittsburgh is currently engaged in projects aimed at informing sustainable design of emerging materials and technologies proposed for use in areas at the nexus of the environment and public health. Dr. Gilbertson is the recipient of the 3M non-tenured faculty award and the Ralph E. Powe Junior Faculty Enhancement Award. To find out more about her research group, please visit leannegilbertson.com and follow her on Twitter @lmgLab.
Read her Emerging Investigator Series article: "It's not all about the ion: support for particle-specific contributions to silver nanoparticle antimicrobial activity" and find out more about her in the interview below:
Your recent Emerging Investigator Series paper focuses on support for particle-specific contributions to silver nanoparticle antimicrobial activity. How has your research evolved from your first article to this most recent article?
Silver is a fascinating element, particularly when it takes the form of a nanoparticle and we start manipulating particle parameters such as size, shape and surface chemistry. To date, we are unable to predict the complex behavior of silver nanoparticles when they are introduced into natural (and even laboratory) systems. Yet, the ability to do so has the potential to advance innovative solutions to relevant global challenges. One particular challenge central to this current work is the rise in antimicrobial resistance.
We are tackling fundamental questions surrounding the chemical behavior of silver nanoparticles in biologically relevant systems. Ultimately, we seek to better learn how to leverage particle design to tune behavior for different applications. Our work published earlier this year in ES: Nano highlights the influence of different biological growth media chemistries on the evolution of silver ion release and particle surface chemistry, which differentially impacted the measured cytotoxicity of silver nanoparticles. This Emerging Investigator Series paper aims to bridge the fundamental science and applications of silver nanoparticles by identifying open questions surrounding how particle parameters influence cytotoxicity and important methodological considerations towards isolating contributions of the nanoparticle and the released ions. Informed by findings from this study, we are experimentally targeting specific particle parameters to better resolve the multi-faceted, dynamic interactions between silver nanoparticles and microbial systems.
What aspect of your work are you most excited about at the moment?
Findings in this paper identify key gaps in our mechanistic understanding of silver nanoparticle-bacteria interactions. These gaps hinder our ability to rationally design nanoparticles and tune properties for different applications. As a result of this work, we now have an experimental roadmap to pursue research that fills these gaps and answers critical fundamental research questions. Pursuing these questions will have significant influence on how we use silver nanoparticles as antimicrobials, having a positive impact public and environmental health.
In your opinion, what is the biggest advantage of using nanoparticles for antimicrobial agents?
Nanoparticles have multiple facets (size, surface chemistry, shape) that we can control and there are many possible combinations of the particle parameters to explore for enhancing antimicrobial selectivity and efficacy. The antimicrobial properties of silver nanoparticles, in particular, are what makes them so attractive for use in wide ranging applications such as coatings for medical devices and food preparation surfaces, incorporation into wound dressings, antifoulants, and disinfectants in water treatment. In addition, nanoparticles introduce the ability to deliver multiple mechanisms of action to a target organism, which is of particular interest to designing solutions that combat antimicrobial resistance. A lot has been learned from the 'antimicrobial age' in terms of what not to do. The design of next generation antimicrobials must be grounded in fundamental science and consider human behavior. We are not suggesting that nanoparticles will be a drop-in replacement for chemical antimicrobials, rather that we need to be thoughtful about how we design them, where and how we use them.
What do you find most challenging about your research?
The most challenging and exciting aspect of this research is working with a complex and unpredictable material system in a complex and oftentimes ill-defined biological system. There are many factors to consider in trying to isolate particle influences on cytotoxicity, which involves extensive analytical characterization and makes designing experiments particularly challenging (just ask my student and lead author, Lisa!). Another challenge is the fact that silver nanoparticles have been extensively studied and therefore, it is assumed that we know everything there is to know about silver nanoparticles in environmental and biologically-relevant systems. A primary motivation to pursue the research described in this Emerging Investigator Series paper was to show the exciting and important research questions that remain. There is still much to learn mechanistically about how these particles behave and this information is necessary to inform how to intentionally manipulate the material based on the exposure environment and intended application.
In which upcoming conferences or events may our readers meet you?
I always enjoy meeting new people and catching up with colleagues at conferences. This fall I will be co-chairing a session at the upcoming ACS national meeting in Boston August 19-23, 2018. I will be presenting at my first AIChE annual meeting, which will be held here in Pittsburgh October 28-November 2, 2018. I also look forward to participating in the Sustainable Nanotechnology Organization conference November 8-10, 2018 in DC and the QEEN II workshop October 9-10, 2018 in DC.
How do you spend your spare time?
In my 'spare' time, I enjoy running, gardening, and anything that enables me to spend as much time outside as possible. The outdoors and physical activity help clear my mind and recalibrate.
Which profession would you choose if you were not a scientist?
Teaching. This is kind of a cop out because I get to do this now, but it is only one part of my job. I find it incredibly rewarding to motivate and inspire others through science and to work with and mentor students. I taught high school chemistry and coached soccer and lacrosse before going to graduate school. This was one of the most enjoyable jobs I've ever had.
Can you share one piece of career-related advice or wisdom with other early career scientists?
Scientists and engineers are inherently curious and interested in solving problems. My advice would be to find a project that you are truly interested in so that your inherent curiosity motivates the work you do.