The SNO Emerging Investigator gives recognition to emerging scientists and engineers working in the area of Sustainable Nanotechnology.  Environmental Science: Nano is pleased to announce the recipient of this year's honor, Dr. Elijah Petersen, Research Scientist of the Biosystems and Biomaterials Division, Cell Systems Science Group at the National Institute of Standards and Technology in Gaithersburg, Maryland USA.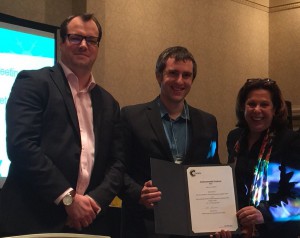 Dr. Petersen's research focuses on the biological interactions of nanomaterials in the environment and the characterization of nanomaterials in complex environmental matrices.  His early research on the interactions of carbon nanomaterials with soil biota was innovative and groundbreaking. Currently he is a leader in the characterization and detection of nanomaterials. Dr. Petersen is the recipient of a 2007 Fulbright Award that enabled him to work in Finland and as National Research Council Postdoctoral Fellowship at NIST. His service and leadership have been outstanding having served on a number of advisory panels including as co-chair of the Ecotoxicology Community of Research for the US-EU Bridging NanoEHS efforts. He is also involved in the construction of ISO methods related to environmental nanotechnology, as well as reviewing OECD protocols for nanotoxicity testing.
Editor-in-Chief Vicki Grassian says that Dr. Petersen was selected because of "his pioneering research contributions and his commitment and leadership to the wider Sustainable Nanotechnology community". Elijah adds "I am deeply honored to have received the Sustainable Nanotechnology Organization Emerging Investigator award. It has been exciting to be involved in nanoEHS research for over a decade while this field has developed. While substantial advances in nanoecotoxicity research have been made during this period, additional work is still needed to develop robust quantitative methods for nanoparticles in complex matrices and to improve the reproducibility and comparability of nanotoxicology measurements among laboratories. I look forward to conducting research on these topics in future years to support the sustainable development of nanotechnology."
Many congratulations from the Environmental Science: Nano team!
Also of interest: Take a look at Dr Petersen's recent Environmental Science: Nano paper
Feasibility of using a standardized Caenorhabditis elegans toxicity test to assess nanomaterial toxicity
S. K. Hanna, G. A. Cooksey, S. Dong,  B. C. Nelson, L. Mao, J. T. Elliott and   E. J. Petersen
Environ. Sci.: Nano, 2016, 3, 1080-1089
DOI: 10.1039/C6EN00105J