Selenium (Se) is a metalloid element found in trace amounts in the earth's crust and which has found extensive application due to its semiconducting properties. The use in photocopiers, microelectronic circuits and other applications has created a demand which makes selenium a valuable element.
Selenium also shows biological activity with a strong dependence on concentration: it is essential in low doses for mammalian organisms but becomes strongly toxic to humans over a certain intake threshold. Efficient removal of selenium from wastewater being discharged in the environment is imperative and the development of cost-effective procedures to achieve this needs to be addressed.
Under typical environmental conditions Se can be found in a variety of oxidation states (-II, 0, IV, and VI). The former two are insoluble and give rise to little toxicity on account of their low mobility in aqueous phases. The latter two however are found as highly mobile oxyanions which are the principal targets for Se removal.
Finding the right reagent
Ling et al have used an established strategy involving the reduction of Se(IV) to the insoluble Se(0) form, but their choice of nanoscale zero-valent iron (nZVI) as the reagent has led to a superior method of wastewater decontamination being developed. As little as 0.2 g L-1 nZVI can achieve over 99% removal of high levels of Se(IV) within 5 hours. Additionally, on account of the magnetic properties of the nZVI its recovery could be achieved simply with the use of a magnet, leaving pure elemental selenium as the product. The potential for elemental selenium recovery and recycling provides grounding for the method becoming cost-neutral or even profitable.
Furthermore, in depth studies were conducted to elucidate the pathway taken by the decontamination process, with attention focused on the nano- and microstructure of the resulting Se particles and of the nZVI before and after reaction.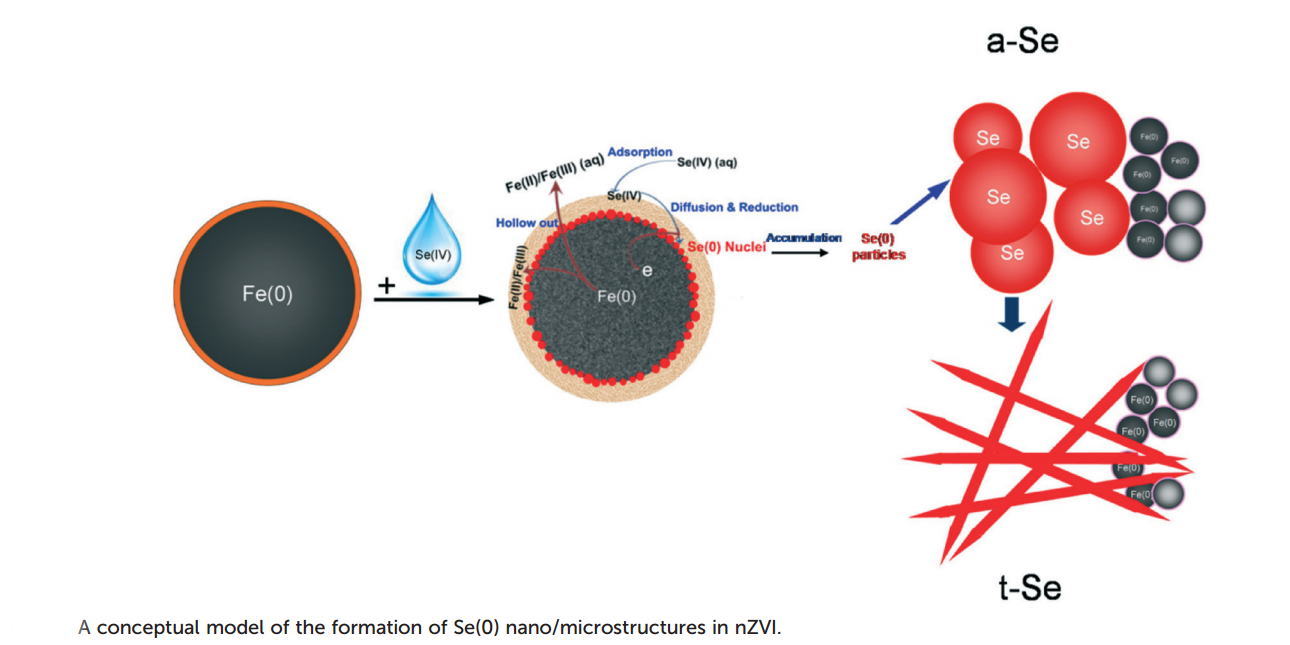 The nZVI particles consist of a metallic iron core surrounded by an oxide layer which under aqueous conditions is capable of performing adsorption of Se oxyanions, thus paving the way for their reduction by the metallic core. Two types of Se structures result following the reductive process: almost perfectly spherical nanoparticles and nano-needles, both being attributed to known forms of elemental Se: amorphous and trigonal, respectively.
A complete account of the Se(IV) reduction and Se(0) structure formation mechanisms operating in this process is available in the full article, free to view for a limited time:*
Genesis of pure Se(0) nano- and micro-structures in wastewater with nanoscale zero-valent iron (nZVI)
Environ. Sci.: Nano, 2016, Advance Article
DOI: 10.1039/C6EN00231E


---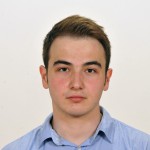 About the webwriter
Dan Mercea is a PhD student in the Fuchter group at Imperial College London. He is working on developing enantioselective FLP catalysis.
—————-
*Access is free until 9th December 2016 through a registered RSC account – register here