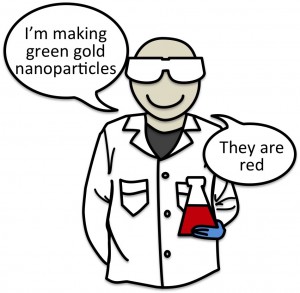 Working in a university research laboratory, I am made aware, almost on a daily basis, of the amount of energy and chemicals we use and the amounts of—sometimes hazardous—waste we produce. Working in an environmental engineering research lab that has the word "sustainable" as part of its name, I am also well aware of how ironic that may seem.
As scientists, we want to be able to create the best, most precisely controlled, most reproducible nanoparticles and nanoparticle-containing experiments. Sometimes the cost for those conditions is high temperatures and large amounts of (sometimes harsh) chemicals (e.g., excess precursors and stabilizers). So even though the core motivation for our research is to benefit the environment, sometimes the methods we have to use in the lab are not completely environmentally friendly.
Researchers are becoming increasingly conscious that their research should also incorporate sustainability principles. It may not be possible to do research that is completely void of environmental impacts, but it's very possible to make an effort into minimizing those impacts. This led to the establishment of the Twelve Principles of Green Chemistry, established in 1998 by Paul Anastas and John Warner.
Of these 12 principles, number six refers to energy efficiency. This work done by my colleagues Leng, Pati, and Vikesland addresses that principle by demonstrating the growth of gold nanoparticles at room temperature, resulting in significant energy savings.
By using gold seeds of about 18 nm in diameter as a starting point, they were able to produce gold nanoparticles of different sizes, ranging from 20 – 110 nm, at room temperature. The fact that nanoparticle growth happens slower at room temperature can be viewed simultaneously as a negative point (it takes longer to manufacture them) and a positive point (with a slower reaction rate, it may be possible to better understand the complicated mechanisms behind nanoparticle growth).
This work shows that we need to continue incorporating the principles of green chemistry and engineering into nanomaterial design to improve our current energy-intensive nanomaterial production practices.
To access the full article, download a copy for free by clicking the link below:
Room temperature seed mediated growth of gold nanoparticles: mechanistic investigations and life cycle assessment.
Weinan Leng , Paramjeet Pati and Peter J. Vikesland
Environ. Sci.: Nano, 2015,2, 440-453
DOI: 10.1039/C5EN00026B
—————-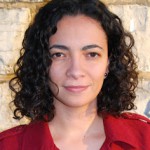 About the webwriter
Marina Vance is a PhD research scientist at Virginia Tech and Associate Director of @VTSuN. She is interested in air quality and environmental nanotechnology. You can find more information about her at mevance.com and you can find more articles by Nina in her author archive.