We are delighted to introduce our latest themed issue focused on the exciting topic of nanoceria!
This issue contains perspectives from a workshop on nanoceria held last November in California, preceding the Second Sustainable Nanotechnology Organization Conference.
Recognising that there was little communication but controversy among researchers investigating nanocerias's beneficial and adverse effects, Robert Yokel proposed a workshop to bring together researchers to discuss its yang and yin.
This event was organized and attended by expert researchers actively investigating the beneficial and untoward effects of nanocerias.
"Nanoceria is expected to have future application in fuel cells and batteries, and has shown benefit in treating numerous medical conditions that have inflammatory and oxidative injury components."
Robert A. Yokel, Guest Editor
Read his editorial online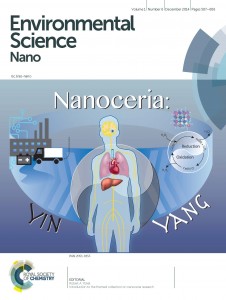 This focused issue contains interesting perspectives and original research reports of studies focusing on nanocerias. The aim of this collection has been trying to understand the bases of nanocerias' divergent effects.
The first part of this issue addresses what we currently know, which are the identified data gaps, and recommends what needs to be determined about the chemical, biological, human health, and environmental aspects of nanoceria.
Previously unpublished results of research studies of nanocerias comprise the second part of this collection.
This collection is the most comprehensive and current source of information on the chemistry, biology, and beneficial and untoward effects of nanocerias.
Robert's research papers on nanoceria biodistribution and retention in rats and on adverse health perspectives of nanoceria were included in this collection. We would like to thank him for guest editing this tremendously exciting issue.
Read some of the papers included in this remarkable collection for free*:
Tutorial Review:
Exploring the properties and applications of nanoceria: is there still plenty of room at the bottom?
Kenneth Reed, Alastair Cormack, Aniruddha Kulkarni, Mark Mayton, Dean Sayle, Fred Klaessig and Brad Stadler
DOI: 10.1039/C4EN00079J
Critical Review:
Behavior of nanoceria in biologically-relevant environments
Amit Kumar, Soumen Das, Prabhakaran Munusamy, William Self, Donald R. Baer, Dean C. Sayle and Sudipta Seal
DOI: 10.1039/C4EN00052H
Articles:
Effect of cerium oxide nanoparticles on asparagus lettuce cultured in an agar medium
Di Cui, Peng Zhang, Yuhui Ma, Xiao He, Yuanyuan Li, Jing Zhang, Yuechun Zhao and Zhiyong Zhang
DOI: 10.1039/C4EN00025K
Metabolomic effects in HepG2 cells exposed to four TiO2 and two CeO2 nanomaterials
Kirk T. Kitchin, Eric Grulke, Brian L. Robinette and Benjamin T. Castellon
DOI: 10.1039/C4EN00096J
Read the full collection on our website
*Access is free through a registered RSC account – click here to register