Professor Vicki Grassian, Chair of Environmental Science: Nano was awarded the John Jeyes Award 2014 this week for her pioneering contributions to the chemistry of environmental interfaces, heterogeneous atmospheric chemistry and the environmental implications of nanomaterials.
The John Jeyes Award, founded in 1975, is a biennial award for chemistry in relation to the environment. John Jeyes was a prolific inventor and scientist who in 1877 invented one of the first disinfectants, which is still used today. This is one of the six awards and prizes that are given by the Environment, Sustainability and Energy Division of the Royal Society of Chemistry.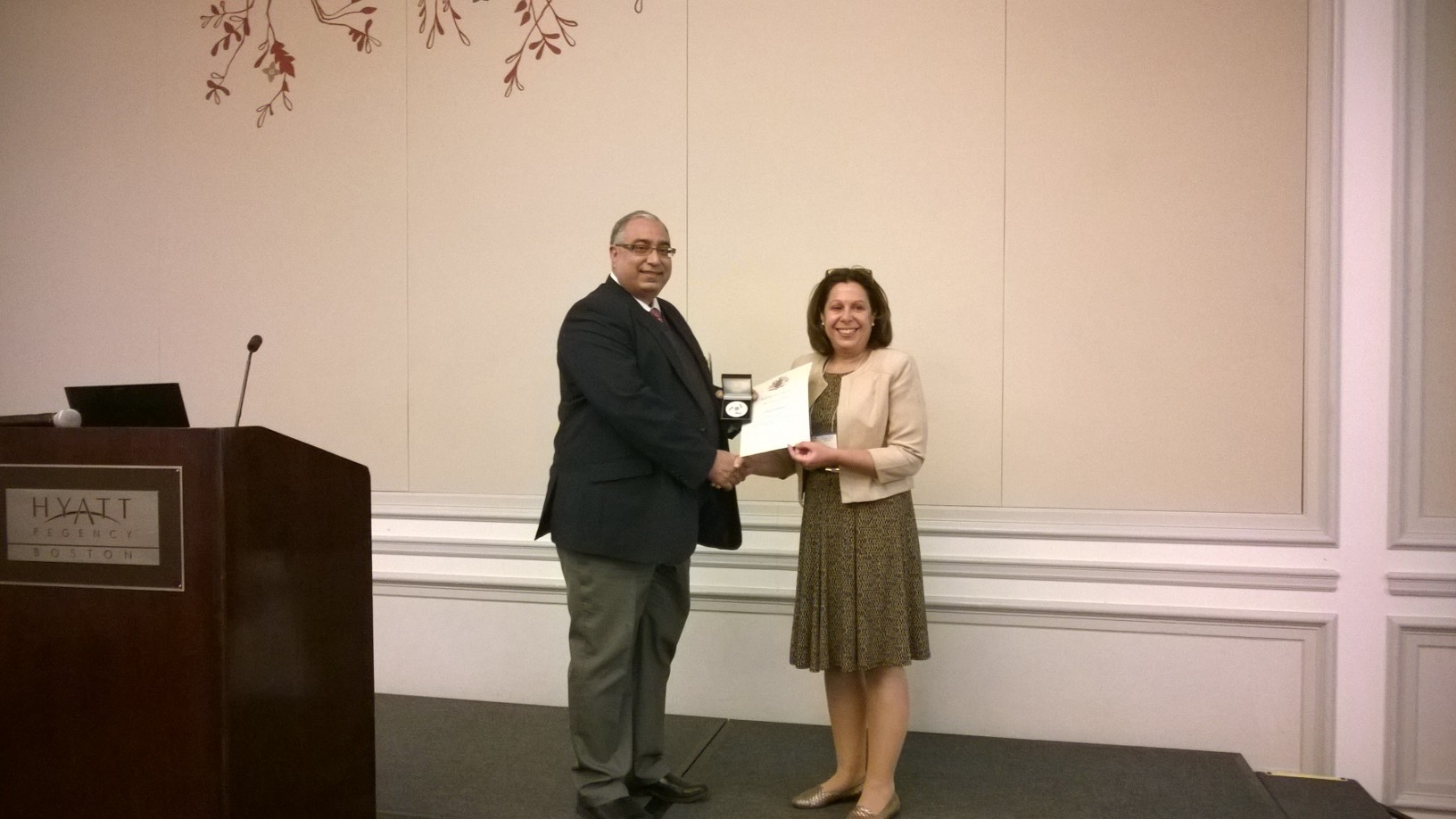 The picture shows Environmental Science:Nano Executive Editor, Harpal Minhas, presenting
Vicki Grassian with the John Jeyes award at the 2014 SNO Conference.
Vicki Grassian, Founding Director of the Nanoscience and Nanotechnology Institute at the University of Iowa, has mentored over one hundred students and postdocs in her laboratory with many of them now having their own research programs focused on energy and the environment and developed the chemical sciences track of the undergraduate degree program in environmental science.
"The John Jeyes Award is wonderful recognition of the research that has been done by the students and postdoctoral associates who have worked in my laboratory"
We would like to congratulate Vicki on her achievement and take this opportunity to thank her for her pioneering contributions to Environmental Science: Nano , bringing together a variety of communities to publish their work on nanoscience and the implications for the environment, health and sustainability.
Vicki's latest Environmental Science: Nano paper 'Iron oxide nanoparticles induce Pseudomonas aeruginosa growth, induce biofilm formation and inhibit antimicrobial peptide function' (C3EN00029J) is included in a dedicated themed collection of papers celebrating the 2014 RSC Prize and Award winners.
Each year the Royal Society of Chemistry gives out over 60 awards and prizes that recognise excellence in the chemical sciences. Our 2015 awards and prizes are open for nomination now, why not nominate someone today?