Nanoceria (nanoparticle form of CeO2, cerium(IV) oxide) is quickly becoming a trending topic in Environmental Science. After recently discussing its health effects, today we present a fascinating paper regarding its biodistribution and retention in rats.
Currently, the main use for nanoceria is as an abrasive catalyst, especially important for the industry in silicon integrated circuit fabrication. In addition to that, and thanks to its autocatalytic behaviour, encouraging results have been presented in the past regarding its use as an antineoplastic agent. Nevertheless, there is concern on the topic of its toxicity in organisms.
Dr Robert A. Yokel and colleagues from the University of Kentucky have conducted an extensive investigation on the distribution and retention of several nanocerias after their systemic administration to rats.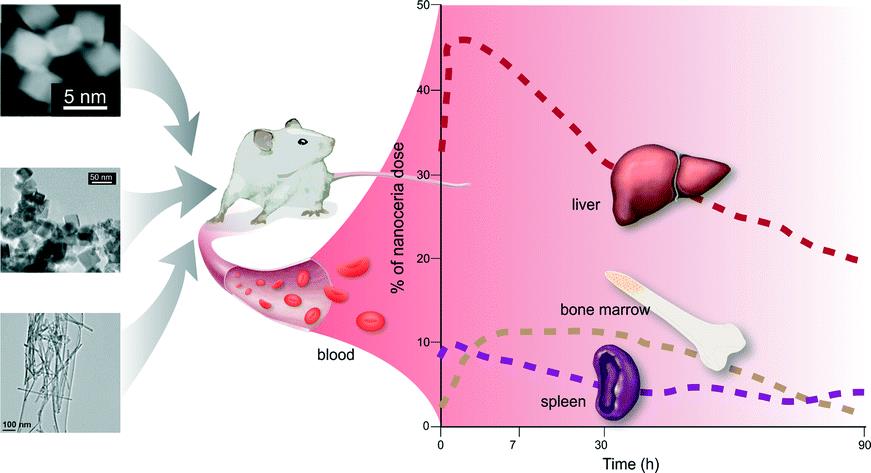 The aim of their study was to determine if and how the biodistribution and persistence of nanocerias are modified according to the doses administered.
Additionally, interesting discussions regarding nanoceria shape and its influence on its toxicity, retention and disposition have been presented.
Moving forward, it will be exceptionally exciting to learn more about nanoceria's clinical properties and effects on animals. In any case, this work is a big step forward in its research, helping us to clarify and consolidate our knowledge of the behaviour of nanocerias in mammalian organisms.
To access the full article, download a copy for free* by clicking the link below:
Nanoceria biodistribution and retention in the rat after its intravenous administration are not greatly influenced by dosing schedule, dose, or particle shape
Robert A. Yokel, Jason M. Unrine, Peng Wu, Binghui Wang and Eric A. Grulke
Environ. Sci.: Nano, 2014, Advance Article
DOI: 10.1039/C4EN00035H
The paper mentioned today is part of our Nanoceria Research themed collection, which is the most comprehensive and current source of information on the chemistry, biology, and beneficial and untoward effects of nanocerias.
*Access is free through a registered RSC account – click here to register