Nanotechnology may be a relatively new field of research, but nanosized materials have been present naturally in our environment since long before scientists started engineering them in the lab. As synthetic nanoparticles find their way into a greater variety of consumer items, however, public concern about their potential health effects has increased. Researchers trying to monitor the spread of engineered nanomaterials now face a challenge: how to distinguish their creations from the background nanomaterials already present in the environment.
A new paper recently published in Environmental Science: Nano, addresses this concern by using rare earth elements (REEs) to label synthetic nanoparticles and trace their path through the environment.
So-called REEs are actually fairly abundant in the earth's crust, but are typically widely dispersed and are largely absent from background nanomaterials. In this paper, researchers at the University of Zaragoza, Spain, tagged titanium dioxide (TiO2) nanoparticles with two different REEs: lanthanum (La) and cerium (Ce). REEs were added to the nanoparticles during the synthesis stage so that they would be integrated into the particles' structure. The incorporation of REEs induced a slight color shift, but did not cause significant structural changes—the labeled nanoparticles looked and behaved much like the non-labeled ones, though small differences in surface area and particle sized were observed at higher concentrations of REEs. However, because REEs are present in in the background in such low concentrations, the labeling technique is very sensitive—only a small amount of the element must be added in order for a signal to be picked up.
Then, the researchers tested whether their labeled nanoparticles were detectable in the environment. To simulate the type of contamination that might result from basic handling, they poured the nanoparticles between two beakers, a common laboratory procedure that has the potential to release particles into the air and deposit them onto the surrounding work surface.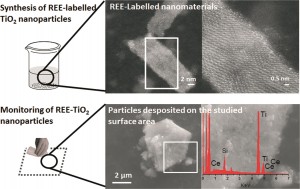 They analyzed their work surface by systematically wiping the testing area and dissolving the wipe along with any particulate matter that it had picked up. Using optical spectrometry, they were able to quantify the amount of nanoparticle
s found near their beakers. The simple transfer procedure had spread nanoparticles across their work surface—a hint that failing to clean up the workspace between experiments could confound future results through cross-contamination!
Although this study found that even simple laboratory techniques can introduce nanoparticle contamination into the environment, it did not assess the potential health effects of these particles. Rather, the labeling technique described here provides an easy and sensitive method to trace engineered nanomaterials in the environment that will facilitate future studies attempting to answer this question.
To access the full article, download a copy for free* by clicking the link below.
Identification of TiO2 nanoparticles using La and Ce as labels: application to the evaluation of surface contamination during the handling of nanosized matter.
DOI: 10.1039/c4en00060a
V. Gomez et al
About the webwriter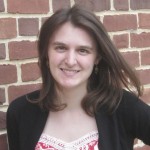 Laurel Hamers is a recent graduate of Williams College and an aspiring science journalist. She has written for the Marine Biological Laboratory, Inside Science News Service, and the Materials Research Society. You can find her on her blog (sciencescope.wordpress.com) or on Twitter (@arboreal_laurel.)
* Access is free through a registered RSC account – click here to register