Continuing our series of blog posts introducing the newest Editorial Board members of Environmental Science: Processes & Impacts, in this article we are delighted to welcome Desirée Plata as a new Editorial Board member of the journal!
Dr Plata holds a Ph.D. in Environmental Chemistry and Chemical Oceanography from the MIT and the Woods Hole Oceanographic Institution. She has a B.S. in Chemistry from Union College and proudly attended Gould Academy for high school.
Desirée's Research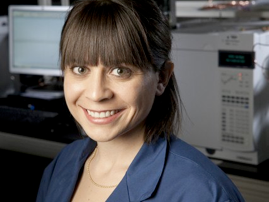 Desirée's interests focus on improving the development of novel chemicals and engineered systems to include environmental objectives, along with traditional performance and cost metrics.
She seeks to predict and mitigate environmental damage through physiochemical understanding of material reactivity, prognostic fate models, and geochemical analyses. Also, she is working towards the design of benign syntheses via mechanistic understanding of chemical reactions used in industrial processes.
MY RESEARCH VISION:
"I envision a future in which technological solutions do more good than harm. In particular, I think environmental scientists should work with material and process designers to ensure technologies that both sustain and advance environmental health.
My group strives to have this synergy result in a product or process that is not only better for the environment, but better performing as well. I believe this type of work will eventually redefine the role of environmental scientists and engineers in innovation and, ultimately, the approach to innovation globally."
Make sure you don't miss out on the latest journal news by registering your details to receive the regular Environmental Science: Processes & Impacts e-alert.
Chat with us on Twitter! @ESPI_RSC