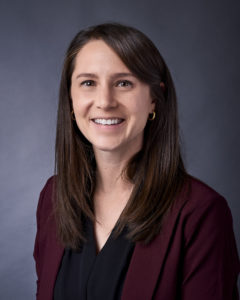 Dr. Amanda Hohner is an Assistant Professor in the Department of Civil Engineering at Montana State University. Her research focuses on the characterization of source water quality and drinking water treatment processes. Within this area, she evaluates the effects of climatic disturbances and extreme events on watersheds and drinking water system resiliency. Prior to joining MSU she was an Assistant Professor at Washington State University. She completed her PhD and MS in Environmental Engineering at the University of Colorado-Boulder and her BS in Civil Engineering at Washington State University. In addition to research and teaching, she is actively involved in mentoring women and first-generation college students in engineering.
Read Amanda's Emerging Investigator Series article "Emerging investigator series: "physicochemical properties of wildfire ash and implications for particle stability in surface waters" and read more about her in the interview below:
Your recent Emerging Investigator Series paper focuses on Physicochemical Properties of Wildfire Ash and Implications for Particle Stability in Surface Waters. How has your research evolved from your first article to this most recent article?
My PhD work and first paper primarily focused on wildfire effects on dissolved organic matter and disinfection byproduct formation during water treatment. My research has expanded to investigate post-fire water quality more broadly and in the context of wildfire effects on aquatic systems and environmental processes. The focus of this article is on the characterization of solid wildfire-ash particle characterization and properties that influence stability and mobilization in watersheds. It pushed me to incorporate new tools and analytical techniques from soil science and particle chemistry and look through the lens of ecosystems impacts rather than water treatment.
What aspect of your work are you most excited about at the moment?
Wildfire and water quality research has gained a lot of momentum the last few years and it really requires interdisciplinary teams to integrate an understanding of the complex interactions involved. I'm excited about working with and learning from collaborators in forestry, hydrology, ecology, and environmental economics on addressing important and challenging research questions. It's fun to step outside of our specific disciplines and continue learning.
In your opinion, what are the most important questions to be asked/answered in this field of research?
Unfortunately, in many regions wildfires are now high severity and catastrophic to communities and ecosystems. At the same time we need some level of fire on the landscape to maintain healthy forests and watersheds. Research and society need to understand what this balance looks like from a land and water management perspective and how we can move towards a more natural, healthy fire regime in the face of climate change.
What do you find most challenging about your research?
Observational and field-based studies include very complex environmental interactions that are out of our control such as wildfire behavior and weather. As scientists and engineers we like to have controlled experiments with clear explanations, but that is not the nature of post-fire environmental studies. It can be very challenging when we collect ash or water samples from a burned landscape to be able to form scientific conclusions, but at the same time it makes for exciting research with many unanswered questions to explore.
In which upcoming conferences or events may our readers meet you?
My favorite conferences to attend are the AWWA Water Quality & Technology Conference and Association of Environmental Engineering and Science Professors (AEESP) Conference.
How do you spend your spare time?
We have a three month old son, so I spend most of my spare time with him cuddling and playing, and on all of the other parenting adventures. We also like to get outdoors and take our pup hiking or running. In the winter we cross-country ski and in the summer we like to stand-up paddle board. We just recently moved to Bozeman, Montana and look forward to taking our son on outdoor adventures soon!
Which profession would you choose if you were not a scientist?
I like to argue, so maybe I would have been an environmental lawyer. If not that, then a K-12 teacher because I really enjoy teaching and mentoring students.
Can you share one piece of career-related advice or wisdom with other early career scientists?
There are definitely ups and downs with research and academia and it is important to persevere and stay confident in yourself and your abilities. I find I rely on my mentors and close peers to keep me motivated and help me through challenges.