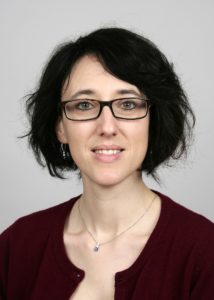 Chiara Giorio is Assistant Professor in Atmospheric Chemistry at the Yusuf Hamied Department of Chemistry of the University of Cambridge. Chiara graduated in Chemistry in 2008 from the University of Padua (Italy), where she remained for her PhD in Molecular Sciences (awarded in 2012). She was a postdoc at the University of Cambridge in the group of Professor Markus Kalberer until 2016, a researcher at the French National Centre for Scientific Research (CNRS) in 2017, and tenure-track Assistant Professor at the University of Padua until the beginning of 2020, when she returned to Cambridge. She is now leading a multidisciplinary research group working on air quality and climate science. She is the recipient of the 2021 RSC Environment, Sustainability & Energy Division Early Career Award and a Fellow of the Community for Analytical Measurement Science (CAMS).
Read Chiara's Emerging Investigator Series article "Aqueous-phase processing of atmospheric aerosol influences dissolution kinetics of metal ions in an urban background site in the Po Valley" and read more about her in the interview below:
Your recent Emerging Investigator Series paper focuses on Aqueous-phase processing of atmospheric aerosol influences dissolution kinetics of metal ions in an urban background site in the Po Valley. How has your research evolved from your first article to this most recent article?
I had the fortune to touch many different aspects of environmental science research during my career so far. My first paper concerned the environmental fate of systemic pesticides and exposure routes of honeybees. Back then I was already working on air pollution too. These two, apparently very distinct, research lines had something in common. One of the exposure routes for honeybees was through dust (containing pesticides) emitted in the atmosphere during sowing of corn fields. Now my work is mainly focused on air pollution, trying to understand the mechanisms of toxicity but also monitoring people exposure to air pollution.
What aspect of your work are you most excited about at the moment?
I am part of collaborative research projects aiming at monitoring air quality in people's homes and testing strategies to improve the quality of the air they breathe through available technologies but also behavioural change. I am really excited about this because I feel I can make a positive impact on people's lives.
In your opinion, what are the most important questions to be asked/answered in this field of research?
We are on the verge of a climate catastrophe and current research is focusing on mitigation strategies. However, we don't know how air pollution, currently killing more than 7 million people per year worldwide, is going to be affected by climate change. How can we  improve air quality as well as mitigating climate change?
What do you find most challenging about your research?
My research is interdisciplinary and requires a wide range of expertises. It can be very challenging to put together the right team and promote a good communication between people with different backgrounds but at the same time it can be very exciting and rewarding.
In which upcoming conferences or events may our readers meet you?
I will be at the RSC "Analytical Research Forum 2022" in London in June and at the RSC "#EnvChem2022: Chemistry of the Whole Environment Research" in York in July.
How do you spend your spare time?
I love cooking, sports, and tv series but, right now, in my spare time I am mostly a mum of a lovely little boy.
Which profession would you choose if you were not a scientist?
I am very happy to be a scientist, but if I had to choose another job I would probably be a chef in a small restaurant. I love cooking and I like small characteristic restaurants that base their menu on local products. They always have a unique flavour and unique atmosphere.
Can you share one piece of career-related advice or wisdom with other early career scientists?
My advice is to believe in yourself, in your ability to reach your objectives and to not get discouraged by people and events.