We are delighted to announce a special journal Symposia taking place at the ACS Fall in San Diego, USA, next month. This Symposia will feature talks from Editorial Board members of Environmental Science: Processes & Impacts, Environmental Science: Nano, and Environmental Science: Water Research & Technology, alongside some of our recent Emerging Investigators and winners of our inaugural Best Papers Initiative.
Symposium details
When: Sunday 25th August (all-day) and Monday 26th August (morning)
Where: Room 29A, San Diego Convention Center, USA
 Speakers and talk titles:
Sunday 25th August
8:20am
Amir Farnoud Ohio University, USA
Interactions of nanomaterials with the cell plasma membrane: Can model membranes predict nanoparticle-induced membrane damage in cells?
8:45am
Yu (Frank) Yang University of Nevada Reno, USA
Quantitative analysis for the environmental fate of carbon nanotubes in soil-plant systems for their environmental implication and application
9:10am
Leanne Gilbertson University of Pittsburgh, USA
Designing sustainably at the nanoscale
9:35am
Liwu Zhang Fudan University, China
Promoted heterogeneous reaction of SO2 in atmosphere by CO2 and flue gas SO2 utilization
10:15am
Ning Dai University at Buffalo, USA
Sunlight photolysis of anthropogenic chemicals on simulated environmental surfaces
10:40am
Ryan Sullivan Carnegie Mellon University, USA
Using aerosol optical tweezers to learn and predict the chemical evolution of the composition, pH, and phase separated morphology of complex atmospheric particles
11:05am
Lin Du Shandong University, China
Exploring the surface properties of aqueous organic aerosol
11:30am
Raoul-Marie Couture Universite Laval, Canada
Disentangling the contributions of metabolism, light, and flocculation to removing dissolved organic carbon from vertically stratified aquatic environments
1:35pm
Yujie Men University of Illinois, USA
Organic contaminants of emerging concerns: Environmental fate and impacts
2:00pm
Manish Kumar Pennsylvania State University, USA
Biomimetic and bioinspired membranes: Challenges and opportunities
2:25pm
John Fortner Yale University, USA
Next generation graphene-based membranes for water treatment: Evolving from 2D to 3D materials
2:50pm
Delphine Farmer Colorado State University, USA
Chemistry of wildfire smoke: Measuring emissions and evolution of submicron particles
3:30pm
Ed Kolodziej University of Washington (Tacoma/Seattle), USA
Characterizing urban stormwater impacts on water quality
3:55pm
Krista Wigginton University of Michigan, USA
Nucleic acid reactivity with UV radiation and HOCl and the impact of virus capsids
4:20pm
Ligy Philip IIT Madras, India
Development of low-cost colorimetric sensor for the detection of aqueous nitrite ion
4:45pm
Graham Gagnon Dalhousie University, Canada
Achieving low levels of lead at the tap through a multi-faceted corrosion control program
Monday 26th August
8:25am
Stuart Khan University of New South Wales, Australia
Biologically mediated chiral inversion of emerging contaminants: Role of wastewater treatment
8:55am
Greg LeFevre University of Iowa, USA
Putting the "bio" in bioretention: Microbial, plant, and fungal transformation processes in green stormwater infrastructure for sustained removal of emerging contaminants
9:25am
Haizhou Liu University of California Riverside, USA
Which photo-oxidant for potable reuse? Treatment efficiency and toxicity considerations
10:10am
Joel Pedersen UW-Madison, USA
Modulation of nanoparticle-membrane interactions by proteins
10:40am
Sijin Liu RCEES, China
Transformation-determined nanotoxicity
11:10am
Korin Wheeler Santa Clara University, USA
Toward predictive analysis of nanoparticle protein corona populations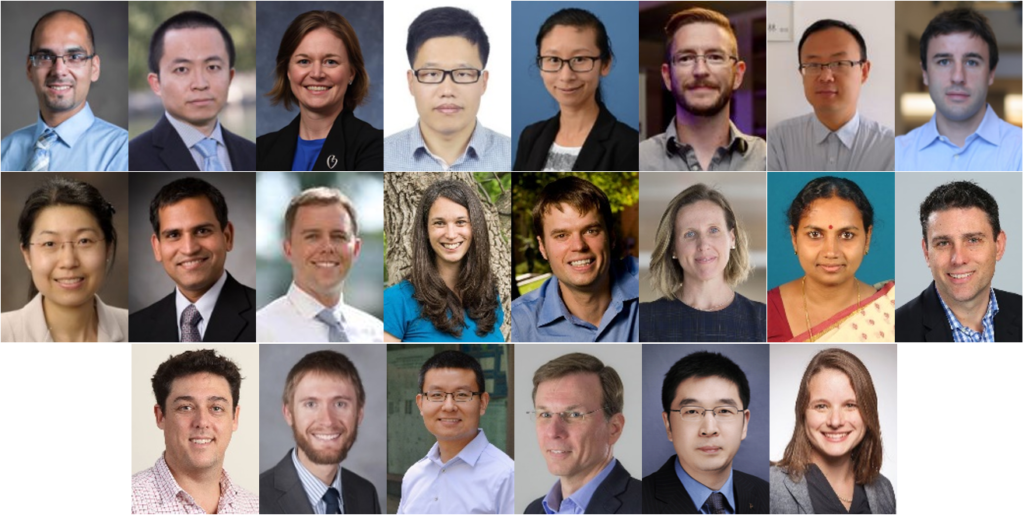 This Symposium aims to showcase the exciting research being conducted by thought-leaders and rising stars in the field of environmental science and engineering – we do hope that you will be able to join us!
Click here to return to the ESPI journal homepage
Click here to return to the ES:Nano journal homepage