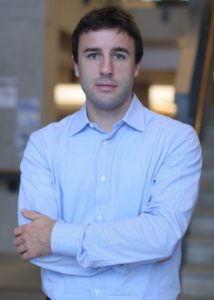 We are delighted to introduce our latest Environmental Science: Processes and Impacts Emerging Investigator, Raoul-Marie Couture!
Raoul-Marie Couture is an aquatic geochemist studying coupled elementary cycles in lakes, waterlogged soils and freshwater sediment, with a focus on such systems within the boreal zone. He holds a BSc in Chemistry (2004) from Laval University and a PhD in Water Sciences (2010) from the University of Quebec, Canada. After his graduate studies he held a post-doctoral fellowship at the Georgia Institute of Technology and a Research Assistant Professor position in the Ecohydrology Group at the University of Waterloo. From 2013 to 2018, he was researcher, then head of the section for Catchment Processes at the Norwegian Institute for Water Research (NIVA) in Oslo, Norway. Form March 1st 2018 onward he is Associate Professor in the Chemistry department at Laval University. His research aims to understand how the biogeochemical cycling of key elements responds to human activities and climatic factors, with the overarching goal of improving water quality. To acheve his research goals, he combines field work, instrumental analysis and process-oriented computer modelling. His publications have touched on the modelling of biogeochemical processes controlling seasonal anoxia and algae blooms in lakes, the speciation and fate of contaminant metals and metalloids, and the modelling of sediment-water interactions during early diagenesis. He lives in Quebec city with his spouse and two daughters.
Read his Emerging Investigators series article: "Geochemistry of trace elements associated with Fe and Mn nodules in the sediment of limed boreal lakes" and find out more about him in the interview below:
Your recent Emerging Investigator Series paper focuses on the geochemistry of trace elements in the sediment of limed boreal lakes. How has your research evolved from your first article to this most recent article?
This article reflects my continuous interest in sediment redox processes and in metal and metalloid diagenesis. Since my first article in 2008, my research has evolved to consider multiple lake systems at once, and how they respond to multiple pressures such as atmospheric deposition, long-term changes in land use and climate, and to geoengineering measures.
What aspect of your work are you most excited about at the moment?
I am just about to start a new position as a professor in the chemistry department at Laval University. I am looking forward to building a research group in aquatic geochemistry to work the impact of current environmental changes on water quality. I am particularly excited about the opportunity to work on a wide range of water quality issues in various settings, from populated agricultural catchments to boreal and arctic landscapes.
In your opinion, what is the biggest environmental impact posed by the release of trace elements into the water column?
The release of trace elements – especially those that are potentially toxic – to the water column can have a significant environmental impact. In the natural environment, it is a threat to aquatic ecosystems, with often severe impact on the food web from phytoplankton to fish. In drinking water reservoirs, it is a direct threat to water quality and to human health.  Understanding on how trace elements can remain sequestered in the sediment contributes to reducing their environmental impacts.
What do you find most challenging about your research?
The most challenging aspect of my research is the combination of field work, laboratory experiments and computer-based modelling. Understanding the coupled cycling of major and trace elements in the aquatic environment requires balancing project resources along these three axes.
In which upcoming conferences or events may our readers meet you?
I can be found at the upcoming workshop on Restoration of Eutrophic Lakes in Lahti, Finland, June 4-5 2018 (https://lahtilakes2018.fi/) and at the upcoming Goldschmidt 2018 conference in Boston, USA, Aug. 17-18, 2018.
How do you spend your spare time?
I enjoy spending time with my spouse and two young daughters. These days I am also learning the ins and outs of improving the old house that we recently bought in Quebec City.
Which profession would you choose if you were not a scientist?
Choosing between art and natural sciences was a difficult decision when the time came to select an undergraduate program – my other choice would have been architecture.
Can you share one piece of career-related advice or wisdom with other early career scientists?
I have experienced that the demands on the time of young researchers is hard to balance, especially with the needs of a young family. Learning early to manage our time efficiently strikes me as an important skill.  For instance, knowing in advance the criteria for advancement has helped me to seize the right opportunities.