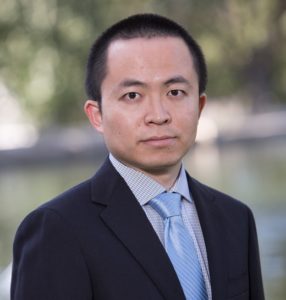 Yu (Frank) Yang is an Assistant Professor at the University of Nevada, Reno, working in the Civil and Engineering Department. Prior to this, he completed both his undergraduate studies and PhD at Peking University, China. His current research interests include: the impact of global climate change on the fate of critical pollutants; the response of organic matter geochemistry to the temperature increases; and the colloid-facilitated reactive transport of insoluble radionuclides.
Read his Emerging Investigators article "Dual role of organic matter in the anaerobic degradation of triclosan" and find ourmore about Frank and his research in the interview below:
Are you within 10 years of receiving your PhD? Do you have an independent research career? Then you could be eligible for our Emerging Investigator Series! find out more at rsc.li/emerging-espi
Your recent Emerging Investigator Series paper focuses on the role of organic matter in the anaerobic degradation of triclosan. How has your research evolved from your first article to this most recent article?
My first research paper is about the human exposure to legacy pesticides (e.g. DDT) and their health risk. My Ph.D. studies and postdoctoral projects are mainly focused on the organic matter-mediated fate and transport of organic and inorganic pollutants. In this paper, we have found an interesting novel dual role of organic matter in the degradation of an emerging organohalide compound.
What aspect of your work are you most excited about at the moment?
In my research group, we are mainly working on the important environmental redox reactions, focusing on the degradation of organohalides, microbial assimilation and plant uptake of carbon nanomaterials, and stability of soil organic carbon. We are currently using lots of state-of-the-art technologies to study the transformation of organohalides and natural organic carbon, which is really exciting to us.
In your opinion, what is the biggest impact to the environment presented by antimicrobial agents?
Release of antimicrobial agents can induce the development of antimicrobial resistance, which is one of the biggest environmental problems.
What do you find most challenging about your research?
I would like to fully understand the degradation pathways of emerging organohalides and work out cost-effective removal strategies. Both are challenging tasks.
In which upcoming conferences or events may our readers meet you?
My group and I will present our work (6 talks and 3 posters) at American Chemical Society 2017 Spring Meeting (April 2-6, 2017, San Francisco). I am also chairing two symposia with my colleagues, with one for redox reactions and the other for nanomaterials.
How do you spend your spare time?
When I have spare time, I enjoy watching movies, playing chess, and spending time with my family.
Which profession would you choose if you were not a scientist?
Without science, probably I would become a high-school teacher.
Can you share one piece of career-related advice or wisdom with other early career scientists?
Have a good balance and be persistent. Balance between the crazy ideas and relatively "low-risk" projects, balance between pursuing grants and publishing papers, balance between research and teaching, and many others