The 8th National Conference on Environmental Chemistry (NCEC) was held in Guangzhou, China, 5th – 8th November 2015. The topic of this conference was Innovation and Development in Environmental Chemistry, based on the latest progress on the discipline.
The conference was a success with many events taking place during the conference, including environmental protection and analytical instrument exhibitions, academic posters, and graduate student symposiums.
Environmental Science: Processes & Impacts was proud to sponsor 5 oral prizes during this event. The winners were:
– Haichao Wang (Peking University)
Simulation of NO3 free radicals in North China Plain and the research of measurement instrument
– Aruo Nan (Guangzhou Medical University)
The functional and mechanism of non encoding RNA in nerve injury induced by environmental lead exposure
– Rong Jin (Research Center for Eco-environmental Sciences, CAS)
The characteristics of polychlorinated naphthalenes generated in the process of waste derived fuel in cement kilns
– Xiang Wu (Zhejiang University)
Speciation of tipical organic pollutants in soil
– Fengzhen Zhang (South China University of Technology)
Study on degradation of organic pollutants in water by ozone catalytic zinc ferrite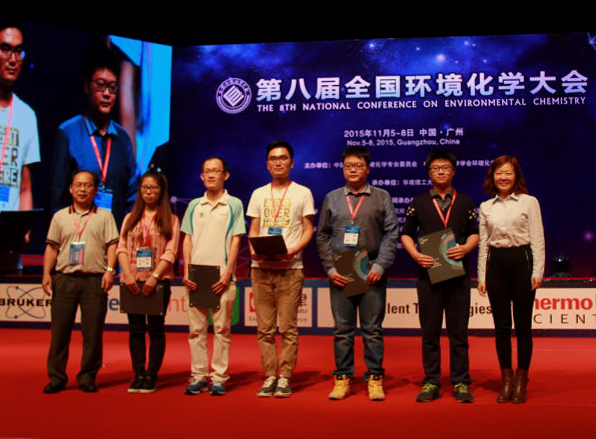 The picture shows the winners of the Environmental Science: Processes & Impacts oral prizes during the 8th NCEC
Congratulations! The judges of the prize thought the quality of the presentations were really high and, from the Environmental Science: Processes & Impacts team, we would like to thank all the students that attended or presented at the meeting.
Many congratulations from the Environmental Science: Processes & Impacts team