Bangladesh is, sadly, the centre of a wide variety of meteorological disasters (cyclones, floods, saline water intrusion…). Moreover, it is one of the most vulnerable countries on Earth to any sea-level rise that global climate change may cause. In addition to all of this, Bangladesh population is quickly growing, and it is now one of the most densely populated nations. All these factors affect, of course, the country's agricultural system and correlate directly with its ability to feed the population. A recently published paper proposes the creation of a new model framework to study both macro- and micro-scale environmental processes and link these to the prosperity of the Bangladeshi households.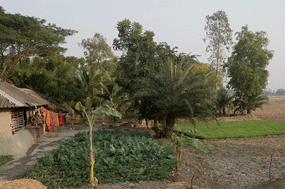 Thanks to the efforts of both the government and the people of Bangladesh, poverty level has decreased from 70 to 43 percent in less than twenty years. However, poverty levels are higher in coastal regions, such as the area of this study. Could climate change aggravate this situation? To estimate this, the authors developed a new model that takes into consideration a broad diversity of factors.
To begin with, they have used mathematical models created by the Food and Agriculture Organization (FAO) to estimate the crop productivity. These models were enhanced with climate, soil salinity, cropping patterns and market price data from diverse databases. Also, they have studied demographic information from different sources.
Additionally, they have added what is one of the major innovations of this particular model: financial data of individuals and families. Thus, researchers were able to evaluate and analyse the complex relationship between nature, agriculture and day-to-day life of farmers.
Some conclusions were quite surprising: i.e., if farmers increased their productivity substantially, they would experience a very small increase in their income. This is mainly due to a quite extended access to credit that has led families to assume debt they cannot afford, even working longer hours. Besides, these study points out that crop diversification may not help overcome climate change. Nonetheless, these are the first results of a very new prediction model. This opens new opportunities to further analyses, research and improvements on the models for a better understanding of the situation in Bangladesh.


To read more about this study, download a copy for free* by clicking the link below.
Agricultural livelihoods in coastal Bangladesh under climate and environmental change – a model framework
Attila N. Lázár, Derek Clarke, Helen Adams, Abdur Razzaque Akanda, Sylvia Szabo, Robert J. Nicholls, Zoe Matthews, Dilruba Begum, Abul Fazal M. Saleh, Md. Anwarul Abedin, Andres Payo, Peter Kim Streatfield, Craig Hutton, M. Shahjahan Mondal and Abu Zofar Md. Moslehuddin
Environ. Sci.: Processes Impacts, 2015,17, 1018-1031
DOI: 10.1039/C4EM00600C
—————-
Fernando Gomollon-Bel is a PhD Student at the ISQCH (CSIC–University of Zaragoza). His research focuses on asymmetric organic synthesis using sugars as chiral-pool starting materials towards the production of fungical transglycosidase inhibitors.
—————-
* Access is free until 16/08/2015 through a registered RSC account.