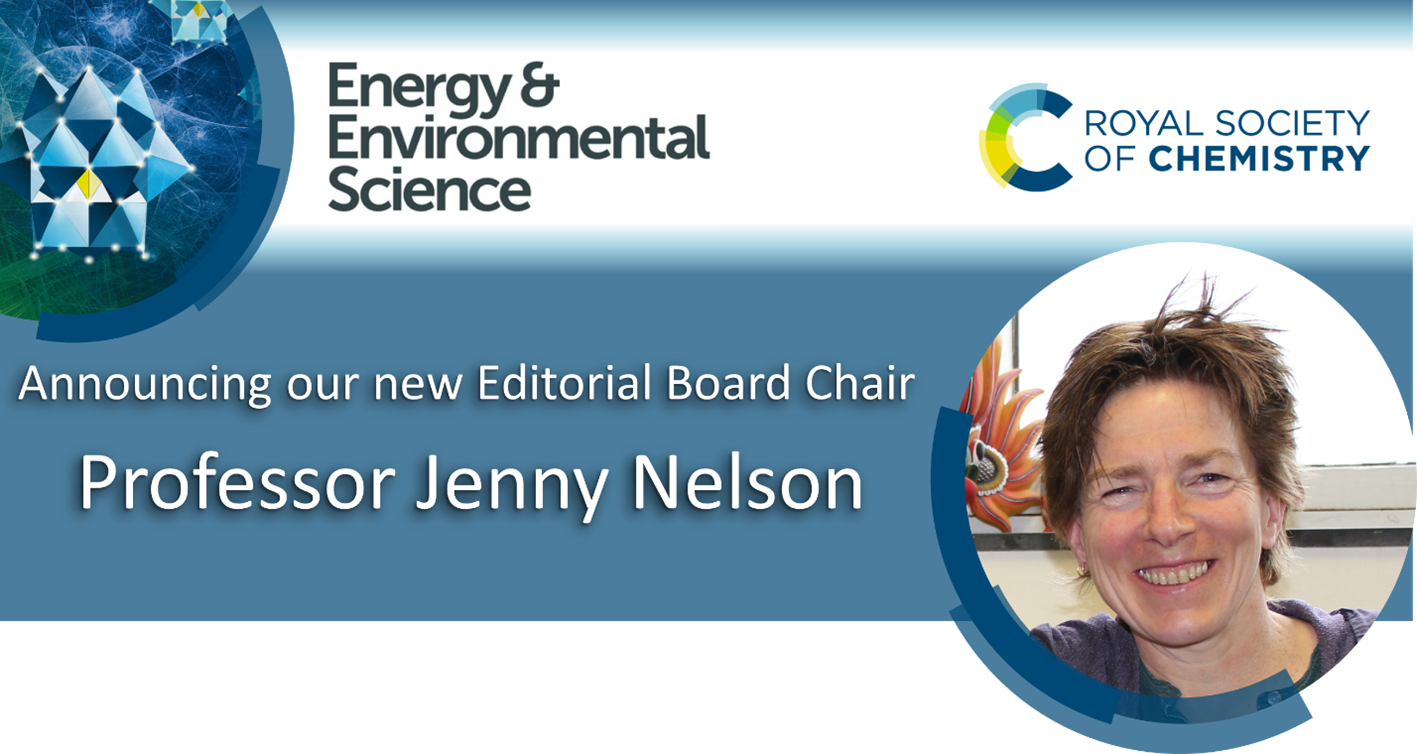 We are delighted to introduce Professor Jenny Nelson as Energy & Environmental Science's new Editorial Board Chair.
Jenny Nelson is a Professor of Physics at Imperial College London, where she has researched novel varieties of material for use in solar cells since 1989. Her current research is focused on understanding the properties of molecular semiconductor materials and their application to organic solar cells. This work combines fundamental electrical, spectroscopic and structural studies of molecular electronic materials with numerical modelling and device studies, with the aim of optimising the performance of solar cells based on molecular and hybrid materials.
Since 2010 she has been working together with the Grantham Institute for Climate Change to explore the mitigation potential of photovoltaic, and other renewable, technologies. She has published over 200 articles in peer reviewed journals, several book chapters and a book on the physics of solar cells. She was awarded the 2009 Institute of Physics Joule Prize and medal and the 2012 Royal Society Armourers and Brasiers Company Prize for her research.
"I am delighted to take on the role of Chair of the Editorial Board of Energy & Environmental Science. I would like to pay tribute to my predecessor Joe Hupp who has steered the journal with excellent judgement over the last four years and look forward to working with my fellow Editorial Board members and the Royal Society of Chemistry on the further development of EES as a world class venue for the very best energy science research. The coming decade will be critical for the energy transition and climate change mitigation and I would love to see EES authors lead the field in publishing scientific contributions to address these challenges." – Jenny Nelson
We would like to take this opportunity to thank our outgoing Editorial Board Chair, Professor Joseph Hupp, for his service to the journal.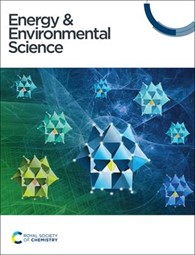 Jenny has selected some of her favourite research recently published in EES to share with you. Read these papers now for free until the end of March 2023:
Manipulating the D:A interfacial energetics and intermolecular packing for 19.2% efficiency organic photovoltaics
Chengliang He, Youwen Pan, Yanni Ouyang, Qing Shen, Yuan Gao, Kangrong Yan, Jin Fang, Yiyao Chen, Chang-Qi Ma, Jie Min, Chunfeng Zhang, Lijian Zuo* and Hongzheng Chen*
High-performance all-solid-state Li2S batteries using an interfacial redox mediator
Chun Yuen Kwok, Shiqi Xu, Ivan Kochetkov, Laidong Zhou and Linda F. Nazar*
Perspective on the hydrogen economy as a pathway to reach net-zero CO2 emissions in Europe
Mijndert van der Spek,* Catherine Banet, Christian Bauer, Paolo Gabrielli, Ward Goldthorpe, Marco Mazzotti,* Svend T. Munkejord, Nils A. Røkke, Nilay Shah, Nixon Sunny, Daniel Sutter, J. Martin Truslerh and Matteo Gazzani*
In situ protonated-phosphorus interstitial doping induces long-lived shallow charge trapping in porous C3−xN4 photocatalysts for highly efficient H2 generation
Wenchao Wang, Lili Du, Ruiqin Xia, Runhui Liang, Tao Zhou, Hung Kay Lee, Zhiping Yan, Hao Luo, Congxiao Shang, David Lee Phillips* and Zhengxiao Guo*
Clarification of mechanisms of protonic photovoltaic action initiated by photoexcitation of strong photoacids covalently bound to hydrated Nafion cation-exchange membranes wetted by aqueous electrolytes
Simon Luo, William White, Joseph M. Cardon and Shane Ardo*
And read some of Jenny's recent work in EES here:
Identifying structure–absorption relationships and predicting absorption strength of non-fullerene acceptors for organic photovoltaics
Jun Yan, Xabier Rodríguez-Martínez,* Drew Pearce, Hana Douglas, Danai Bili, Mohammed Azzouzi, Flurin Eisner, Alise Virbule, Elham Rezasoltani, Valentina Belova, Bernhard Dörling, Sheridan Few, Anna A. Szumska, Xueyan Hou, Guichuan Zhang, Hin-Lap Yip, Mariano Campoy-Quiles* and Jenny Nelson*
Reconciling models of interfacial state kinetics and device performance in organic solar cells: impact of the energy offsets on the power conversion efficiency
Mohammed Azzouzi,* Nathaniel P. Gallop, Flurin Eisner, Jun Yan, Xijia Zheng, Hyojung Cha, Qiao He, Zhuping Fei, Martin Heeney, Artem A. Bakulin and Jenny Nelson*
Side-chain tuning in conjugated polymer photocatalysts for improved hydrogen production from water
Duncan J. Woods, Sam A. J. Hillman, Drew Pearce, Liam Wilbraham, Lucas Q. Flagg, Warren Duffy, Iain McCulloch, James R. Durrant, Anne A. Y. Guilbert, Martijn A. Zwijnenburg,* Reiner Sebastian Sprick,* Jenny Nelson* and Andrew I. Cooper*
We hope that you enjoy reading these papers, and please join us in welcoming Jenny as she leads Energy & Environmental Science to continued success.