Issue 40 of the 40th volume of Dalton Transactions has now been published online!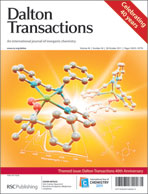 This celebratory issue showcases work from current and past Editorial and Advisory Board Members from across the field of inorganic chemistry, organometallic chemistry and bioinorganic chemistry. Dalton Transactions is a fantastic journal to be involved in, with its long history, growing impact factor and size and enthusiastic readers and authors. We are particularly appreciative of all the dedication and hard work put in by our Editorial Board members over the years, which has made Dalton Trans. the journal it is today.
Our Editorial Board Chair, Professor Chris Orvig is the guest editor of this issue and I'd recommend reading his
editorial
introducing this collection of great articles – Chris has been the chair of
Dalton Transactions
for four years now, and it has been a pleasure for all of us here in the Editorial Office to work with him during this time!
The issue contains four Perspective articles by Peter Scott, Ekke Hahn, Lars Kloo and Seiji Ogo, a Frontier article by Neil Champness, two communications and an excellent collection of full research papers from internationally recognised inorganic chemists.
Read
Issue 40
online today!