We would like to offer a very warm welcome to our new Dalton Transactions Associate Editor Professor Maarit Karppinen!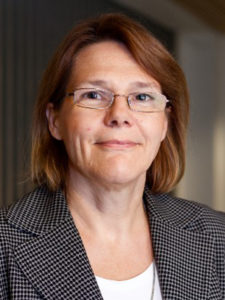 Maarit Karppinen received her doctor degree in inorganic chemistry from Helsinki University of Technology in 1993. After holding shorter-term teaching and research fellow positions in Finland, she accepted first a one-year visiting professorship and later in 2001 a regular associate professor chair in Japan at the Materials and Structures Laboratory, Tokyo Institute of Technology, where she brought the deep chemistry contribution to the strong multidisciplinary research group focusing on functional oxide materials. In 2006 she returned back to Alma Mater as a full professor to combine her expertise in fundamental new-material research to the long traditions of the laboratory in leading ALD thin-film research. In 2008 she became the head of the Chemistry Department; this leadership was then transformed to the newly established Aalto University, formed by merging Helsinki University of Technology with two other universities from the Helsinki area. For 2009-2013 she was also holding the prestigious Academy Professor position in Finland. Currently she is internationally renowned for her pioneering research on complex perovskite oxides and ALD/MLD fabricated inorganic-organic thin films; for this latter field she received her ERC Advanced grant in 2013, followed by two ERC Proof-of-Concept grants. Her group's work is truly interdisciplinary, covering both the design and synthesis of new materials and their characterization for a variety of functionalities. She was nominated as a VIP Visiting International Professor at Ruhr-University Bochum in 2016, and Aalto Distinguished Professor in 2017.
Read a selection of Marrit Karppinen's latest work published by the Royal Society of Chemistry:
Atomic/molecular layer deposition and electrochemical performance of dilithium 2-aminoterephthalate
Juho Heiska, Mikko Nisula, Eeva-Leena Rautama, Antti J. Karttunen and Maarit Karppinen
Dalton Trans., 2020, 49, 1591-1599
DOI: 10.1039/C9DT04572D, Paper
Atomic/molecular layer deposition of Cu–organic thin films
D. J. Hagen, L. Mai, A. Devi, J. Sainio and M. Karppinen
Dalton Trans., 2018, 47, 15791-15800
DOI: 10.1039/C8DT03735C, Paper

Submit your research or reviews to Maarit today, she will be delighted to receive them! – see our author guidelines for information on our article types or find out more about the advantages of publishing in a Royal Society of Chemistry journal. Don't forget to keep up to date with us on Twitter @DaltonTrans !