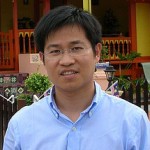 We are delighted to announce that Chem Soc Rev Advisory Editorial Board member, Professor Shuli You, has received the 2011 AstraZeneca Young Investigator Award for Asia.
Professor You's research focuses on the development of  stereoselective C-H functionalisation processes and catalytic asymmetric dearomatisation reactions as well as highly enantioselective Friedel-Crafts alkylation of indole and pyrrole systems.
Professor You will be presented with a $50,000 unrestricted research grant intended to help further growth and development of his research program at the Shanghai Institute of Organic Chemistry, China.
Many congratulations from Chem Soc Rev!
– Fiona McKenzie, Development Editor, Chem Soc Rev