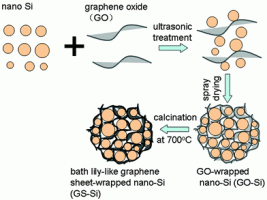 Chinese scientists have used graphene sheets to wrap silicon nanoparticles to make nanocomposites which resemble bath lilies.
Zi-Feng Ma and co-workers, from Shanghai Jiao Tong University, have assessed the performance of the novel bath lily-like graphene sheet-wrapped silicon (GS-Si) nanocomposites as anode materials for Li-ion batteries. They showed that the GS-Si nanocomposites exhibit a high reversible capacity of 1525mAh g–1 and superior cycling stability.  Conventional graphite anodes display a theoretical specific capacity of only 372 mAh g-1, making it a weak candidate for anodes of Li-ion batteries.
The GS-Si nanocomposites were synthesised using a spray-drying technique which requires "no surfactant, no filtration or washing processes and no high vacuum conditions." The authors believe that the procedure is safe and environmentally friendly and can be scaled up for the mass production of graphene-based composite materials.
The obtained GS-Si composite possesses an open nano/micro-structure, in which nanosized Si particles are uniformly dispersed and wrapped in the graphene sheet (GS) matrix. "The GS not only constitutes a good conducting network, but also provides enough void spaces to accommodate the volume change of Si and prevent the aggregation of nano-Si particles during cycling, " explains Ma et al.
Find out more about graphene sheet-wrapped nanocomposites by downloading the full article for free until December 2012.
Communication: A novel bath lily-like graphene sheet-wrapped nano-Si composite as a high performance anode material for Li-ion batteries
Yu-Shi He, Pengfei Gao, Jun Chen, Xiaowei Yang, Xiao-Zhen Liao, Jun Yang and Zi-Feng Ma
RSC Adv., 2011, 1, 958-960
– Kathleen Too, Deputy Editor, RSC Advances