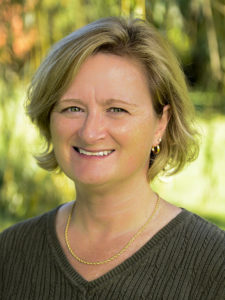 We are delighted to welcome Susan Reutzel-Edens to the CrystEngComm team as an Editorial Board member
Susan Reutzel-Edens is a senior research advisor in Small Molecule Design & Development at Eli Lilly and Company and adjunct professor at Purdue University. After earning her PhD at the University of Minnesota (1991) under the direction of the late Professor Margaret C. Etter, she joined Eli Lilly, where she founded the solid form design program and for two decades led a team of cross-functional scientists charged with finding commercially-viable crystalline forms for small-molecule drug products. She has contributed to the development of more than 150 compounds, is a named inventor on 12 US patents, and has published over 50 papers and book chapters on key aspects of solid form development.
Her research interests include crystal polymorphism, materials design and engineering, crystal nucleation and growth, structure-property relationships, crystal structure prediction and digital design of drug products. She was elected Fellow of the Royal Society of Chemistry in 2018, and currently serves on the CrystEngComm Editorial Board, as a topic editor for Crystal Growth and Design, and is a member of the Editorial Advisory Board of Journal of Pharmaceutical Sciences and the Scientific Advisory Board of the Cambridge Crystallographic Data Centre.
Browse a slection of Susan's latest work:
Accuracy and reproducibility in crystal structure prediction: the curious case of ROY
Jonas Nyman, Lian Yu and Susan M. Reutzel-Edens
CrystEngComm, 2019, 21, 2080-2088
DOI: 10.1039/C8CE01902A, Paper
A random forest model for predicting crystal packing of olanzapine solvates
Rajni M. Bhardwaj, Susan M. Reutzel-Edens, Blair F. Johnston and Alastair J. Florence
CrystEngComm, 2018, 20, 3947-3950
DOI: 10.1039/C8CE00261D, Communication
Can computed crystal energy landscapes help understand pharmaceutical solids?
Sarah L. Price, Doris E. Braun and Susan M. Reutzel-Edens
Chem. Commun., 2016, 52, 7065-7077
DOI: 10.1039/C6CC00721J, Feature Article
Facts and fictions about polymorphism
Aurora J. Cruz-Cabeza, Susan M. Reutzel-Edens and Joel Bernstein
Chem. Soc. Rev., 2015, 44, 8619-8635
DOI: 10.1039/C5CS00227C, Review Article
Submit your work to CrystEngComm – Check our website for handy tips and guidelines or find out more about the benefits of publishing with the Royal Society of Chemistry.