The liver is the largest internal organ and gland in the human body and it performs numerous vital functions including metabolism regulation, synthesis, detoxification, excretion, and body homeostasis. Many factors, such as viral hepatitis, drugs, toxins, or cardiac-related hepatic ischemia, can cause liver failure. According to the World Health Organisation (WHO) around 10% of the world's population is suffering from chronic liver disease. The eventual treatment for chronic liver diseases is liver transplantation; however, an inadequate supply of donors is a major limitation for this therapy. With the large number of patients awaiting a liver transplant, there is urgent need for the development of a temporary liver support system, which could be used until a transplant liver is available, or until the patient's own liver regains its function. Temporary liver supports can be artificial or bioartificial. Artificial support devices are used for detoxification only, whereas bioartificial support devices are more promising, and have biomaterial and cellular components, allowing for both detoxification and synthetic functions. The aim of this study is to prepare a hollow fiber membrane (HFM) based three-dimension matrix, which is the most crucial part of bioartificial livers, and acts as cell growth promoting material. The microenvironment of the three-dimensional matrix influences the cellular behavior and function, exhibiting proliferation, metabolism and interaction of cells with each other and their environment.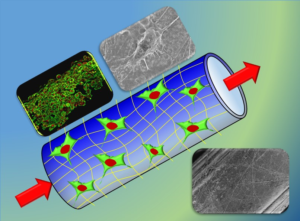 In this study, the authors developed a three-dimensional liver cell (HepG2) compatible bio-matrix which supports the liver cells, allowing them to grow and multiply robustly. The outer surface of indigenously prepared HFM was modified and made accommodating for the growth of the liver cells. Nanofibers of biocompatible compounds including polycaprolactone, chitosan, and gelatin, which mimic the native cell attachment surface, were deposited on the HFMs. The developed material exhibited excellent hemocompatibility with human blood. Minimal induction of inflammatory response and negligible cytotoxicity was observed. Further evaluation of the liver cell functional activity showed that cells exhibited the key characterstics of typical liver cells by secreting urea and albumin in the medium. The specific activity of cytochrome P450 2C9 (detoxifying enzyme) was found to have increased by 2.78-fold. Hence, these results significantly indicate that the three-dimensional fiber matrix developed in this study open up the possibility to use it for the various applications including (1) a membrane material for bio-artificial liver development, (2) cell metabolic studies and (3) drug testing bioreactor.
Three-dimensional multiscale fiber matrices: development and characterization for increased HepG2 functional maintenance for bio-artificial liver application Biomater. Sci., 2018,6, 280-291.
This article is free to read until the 16 April 2018
About the Web/Blog writer: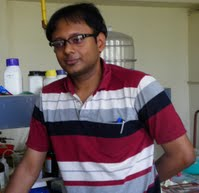 Dr. Sudip Mukherjee is a Web Writer for Biomaterials Science. He is currently a Postdoctoral Research Associate at the Rice University. His research is involved in the development of advanced nanomaterials for drug/gene delivery in cancer theranostics, immunomodulatory applications & angiogenesis. He published a total of ~30 research articles/patents. He serves as International Advisory Board Member for 'Materials Research Express', IOP Sciences. He is an associate member (AMRSC) of The Royal Society of Chemistry, UK. He serves as reviewer for several international journals like Chem Comm, J Mater Chem A, J Mater Chem B, Journal of Biomedical Nanotechnology, RSC Advances, IOP Nanotechnology etc.
Contact Email: sudip.mukherjee@rice.edu
Twitter: https://twitter.com/sudip_88