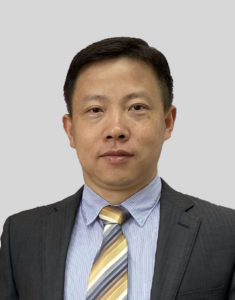 Chuan Zhang is a Professor in the School of Chemistry and Chemical Engineering, Shanghai Jiao Tong University. His research interests focus on the developments of novel functional nucleic acids and nucleic acid-based therapeutics, nucleic acid nanotechnology and supramolecular self-assembly, as well as drug and gene delivery. He was the recipient of the Qiu Shi Outstanding Young Scholar Award (Qiu Shi Science & Technologies Foundation, Hong Kong, 2014) and the National Science Fund for Distinguished Young Scholars of China (NSFC, 2022).
He has given his thoughts on Biomaterials Science as a journal and its future directions:
"In my feeling, I believe Biomaterials Science has established a good reputation in the related fields of chemistry, materials science and engineering, biology, as well as biotechnology and nanotechnology. In each issue, many smart ideas and new technology are published. Yet, the ultimate goal for publishing our research results is either revealing some new insights of fundamental principles or providing beneficial guidance for practical uses. Probably Biomaterials Science can try to draw more attention from doctors (a big group of researchers) working in different departments of the hospitals and publish more collaborative and clinic problem driven investigations. As such, Biomaterials Science will become a bridge between fundamental study and real translational application."
Read some of  Professor Zhang's Biomaterials Science articles.
Urokinase loaded black phosphorus nanosheets for sequential thrombolysis and reactive oxygen species scavenging in ischemic stroke treatment
Dongya Wang, Qianqian Zhao, Jingcan Qin, Yuanyuan Guo, Chuan Zhang and Yuehua Li
Biomater. Sci., 2022, 10, 4656-4666
A nucleic acid nanogel dually bears siRNA and CpG motifs for synergistic tumor immunotherapy
Qiushuang Zhang, Yuanyuan Guo, Lijuan Zhu, Xinlong Liu, Jiapei Yang, Yuehua Li, Xinyuan Zhu and Chuan Zhang
Biomater. Sci., 2021, 9, 4755-4764
Tirapazamine-embedded polyplatinum(iv) complex: a prodrug combo for hypoxia-activated synergistic chemotherapy
Dongbo Guo, Shuting Xu, Wumaier Yasen, Chuan Zhang, Jian Shen, Yu Huang, Dong Chen and Xinyuan Zhu
Biomater. Sci., 2020, 8, 694-701
Supramolecularly self-assembled nano-twin drug for reversing multidrug resistance
Chenwei Wu, Li Xu, Leilei Shi, Xihui Gao, Jing Li, Xinyuan Zhu and Chuan Zhang
Biomater. Sci., 2018, 6, 2261-2269
A fluorescent light-up aggregation-induced emission probe for screening gefitinib-sensitive non-small cell lung carcinoma
Yi Hu, Leilei Shi, Yue Su, Chuan Zhang, Xin Jin and Xinyuan Zhu
Biomater. Sci., 2017, 5, 792-799
Professor Zhang's favourite recent Biomaterials Science articles
Professor Zhang has selected some recent publications in Biomaterials Science that he has found particularly interesting or insightful. These articles are all free to read until 31 July 2023.
Electrospun polymer fibers modified with FK506 for the long-term treatment of acute cardiac allograft rejection in a heart transplantation model
Cheng Deng, Qiaofeng Jin, Jia Xu, Wenpei Fu, Mengrong He, Lingling Xu, Yishu Song, Wenyuan Wang, Luyang Yi, Yihan Chen, Tang Gao, Jing Wang, Qing Lv, Yali Yang, Li Zhang and Mingxing Xie
Biomater. Sci., 2023, 11, 4032-4042
Brain-targeted ginkgolide B-modified carbonized polymer dots for alleviating cerebral ischemia reperfusion injury
Mingxi Yang, Xin Wei, Kailbo Pan, Zei Zhou, Yang Liu, Xiaodan Lv and Bai Yang
Biomater. Sci., 2023, 11, 3998-4008
Advanced biomaterials for human glioblastoma multiforme (GBM) drug delivery
Zahra Nozhat, Shabnam Heydarzadeh, Mina Shahriari-Khalaji, Shibo Wang, M. Zubair Iqbal and Xiangdong Kong
Biomater. Sci., 2023, 11, 4094-4131
Successful batch and continuous lyophilization of mRNA LNP formulations depend on cryoprotectants and ionizable lipids
Alexander Lamoot, Joris Lammens, Emily De Lombaerde, Zifu Zhong, Mark Gontsarik, Yong Chen, Thomas R. M. De Beer and Bruno G. De Geest
Biomater. Sci., 2023, 11, 4094-4131.
All the highlighted articles are currently FREE to read until 31 July 2023!