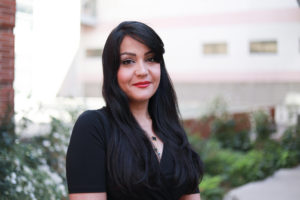 Nasim Annabi is an Assistant Professor in the Department of Chemical and Biomolecular Engineering at University of California, Los Angeles (UCLA). She received a PhD in Chemical Engineering from the University of Sydney. From 2011-2014, she was a postdoctoral fellow at Harvard Medical School and the Wyss Institute for Biologically Inspired Engineering. Before joining UCLA in 2018, she was an Assistant Professor in the Department of Chemical Engineering at Northeastern University. Dr. Annabi's group has expertise in the design and engineering of advanced biomaterials for applications in regenerative medicine. In addition, her research team has devised innovative strategies for the development of advanced bioadhesives and surgical sealants with high clinical translation for surgical applications. Her innovations have resulted in 15 patents and generated significant commercial interest. Dr Annabi has been recognized with several national and international awards including the 2021 Biomaterials Science Lectureship Award, the 2021 Young Investigator Award from the Society for Biomaterials, the 2020 Nanoscale Science and Engineering Forum Young Investigator Award of American Institute of Chemical Engineers, the Australian Prestigious Endeavour Award, and the National Health and Medical Research Council Early Career Award. She can be found on Twitter @nasimannabi.
Nasim has given her thoughts and insight on the future of the biomaterials field:
"Recent advances in biomaterials design have created new platforms for engineering innovative medical devices and drug delivery systems for a wide range of therapeutic applications. However, clinical translation of these platforms as reliable and effective technologies remain a challenge. The future of the biomaterials field should focus on merging smart biomaterials with personalized medicine and additive manufacturing to create more effective and safe in vitro platforms for developing drugs and testing medical devices for rapid scale-up and commercialization. The journal Biomaterials Science has successfully integrated various expertise in biological and materials science towards clinical use to create new interdisciplinary domains in the field of biomaterials."
Editor's Choice: Nasim's favourite recent Biomaterials Science articles
Here are three publications that Nasim has chosen as her favourite recent articles in Biomaterials Science

Nanodot-doped peptide hydrogels for antibacterial phototherapy and wound healing
Xuan Wang, Lin Qiu, Cheng Wang, Zihan Gao, Shuwen Zhou, Pengfei Cui, Pengju Jiang, Huaanzi Hu, Xinye Ni, Xuancheng Du, Jianhao Wang and Jiang Xia
Biomaterials Science, 2022, 10, 654-664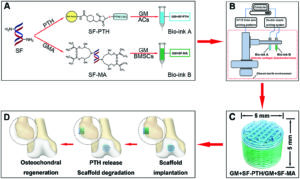 3D bio-printed biphasic scaffolds with dual modification of silk fibroin for the integrated repair of osteochondral defects
Changxu Deng, Jin Yang, Hongtao He, Zhenjiang Ma, Wenhao Wang, Yuxin Zhang, Tao Li, Chuanglong He and Jinwu Wang
Biomaterials Science, 2021, 9, 4891-4903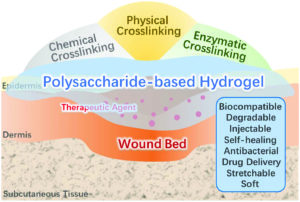 Rational design and latest advances of polysaccharide-based hydrogels for wound healing
Hao Hu and Fu-Jian Xu
Biomaterials Science, 2020, 8, 2084-2101
These articles are all FREE to read until 1 April 2022!