Now that 2022 has come to a close, join us as we look back at some of our highlights from last year and as we look forward to some of our upcoming activities in 2023!
Biomaterials Science 10th Anniversary
October 2022 marked the 10th Anniversary of Biomaterials Science. Our Editor-in-Chief, Jianjun Cheng and Executive Editor, Maria Southall wrote an Editorial reflecting on the progress of the journal over the past 10 years and look towards the future of Biomaterials Science.
We celebrated the anniversary with a number of activities such as:
·        Biomaterials Science 10th Anniversary collection featuring high quality research and review articles from some of the top authors in biomaterials

·        Post-publication web collections from four of our key regions; Europe, China, North America and Asia-Pacific, featuring some of the most cited, most downloaded and most shared articles during the first 10 years of the journal

·        'Reviewer spotlight' recognising some of our most loyal outstanding reviewers who have supported the journal in the past few years
Keep an eye on our Twitter for the latest celebratory activities and check out the latest research published in the ongoing anniversary collection.
Biomaterials Science Top Picks of 2022
We have selected some of the most cited, most downloaded and most shared articles published in Biomaterials Science from last year for our Most Popular 2022 collection
All articles in this collection are FREE to read until 28 February 2023.
Congratulations to all featured authors!
Editorial Board

We welcomed Prof. Nasim Annabi (University of California, Los Angeles) to the Editorial Board of Biomaterials Science as an Associate Editor in February 2022. Prof. Annabi was the recipient of the Biomaterials Science Lectureship 2021 in recognition of her contributions to the biomaterials field. Her research involves the design and engineering of advanced biomaterials for applications in regenerative medicine.
Biomaterials Science Lectureship

The Biomaterials Science Lectureship 2022 was awarded to Dr Yizhou Dong (Ohio State University). This annual award was established in 2009 to honour an early-stage career scientist who has made a significant contribution to the biomaterials science field. Dr. Dong's research focuses on the design and development of biotechnology platforms for the treatment of genetic disorders, infectious diseases, and cancers. To learn more about Yizhou Dong and his research, read our Lectureship winner blog post. You can check out articles from Yizhou and from our previous winners in the Lectureship winners collection.
The nominations for the 2023 Lectureship award are now closed. We have received a number of excellent nominations and we would like to thank everyone for their support. We look forward to announcing the winner later this year.
Biomaterials Science Emerging Investigators
Biomaterials Science is proud to spotlight our ongoing Emerging Investigators Series. Our Emerging Investigators are at the early stages of their independent careers and invited for this collection in recognition of their potential to influence future directions in the field. Congratulations to all the featured researchers on their important work so far!
Themed collections

Read this ongoing themed collection in Biomaterials Science on 'CRISPR biomaterials', Guest Edited by Yuan Ping (Zheijiang University), Qiaobing Xu (Tufts University) and Ming Wang (Chinese Academy of Sciences).

 

Keep an eye out for the exciting work being added to the collection
Browse all past collections on our platform, and see our upcoming collections on our calls for submissions page. We will be announcing more collections during the year, so keep a look out!
Open calls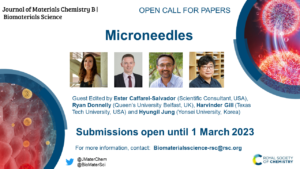 The deadline is soon approaching for this open call to submit your work to a themed collection on 'Microneedles' joint with our companion journal, Journal of Materials Chemistry B. Guest Edited by Ester Caffarel-Salvador (Scientific Consultant, USA), Ryan Donnelly (Queen's University Belfast, UK), Harvinder Gill (Texas Tech University, USA) and Hyungil Jung (Yonsei University, Korea), this themed collection aims to bring together recent advancements in the field of microneedles, from materials design to application and all that is in between.
HOT articles
Remember to check out the Biomaterials Science HOT articles collection featuring hot articles highlighted by the Editors and referees. All articles in the collection are FREE to read until 28 February 2023.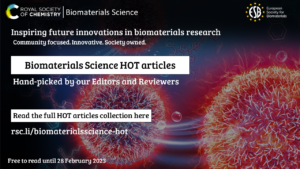 Open Access
The Royal Society of Chemistry has announced that all 31 fully-owned hybrid journals, including Biomaterials Science, have been approved as "Transformative Journals" with cOAlition S, an international consortium of research funding and performing organisations. Find out more about our strive towards 100% Open Access here.
#RSCPoster: Save the date

#RSCPoster is a global Twitter Poster Conference, held entirely online over the course of 24 hours. The event brings together the global chemistry community to network with colleagues across the world and at every career stage, share their research and engage in scientific debate.

The 2023 #RSCPoster Twitter Conference will be held from 12:00 (UTC) 28 February 2023 to 12:00 (UTC) 1 March 2023.
How you can help…
We would like to take this opportunity to thank all of you in addition to our authors, reviewers and readers for their support throughout 2022. Here are some of the ways in which you can continue to make a positive contribution to Biomaterials Science:
Submit to one of our open themed collections and encourage your colleagues to submit.
If you are organising a conference or virtual event, please do let us know if you would like to arrange mutual promotion between the conference and Biomaterials Science. We can offer poster prizes, social media and blog promotion, and adverts in the journal and on the journal web page.
Read our recent articles and follow the latest news on the Biomaterials Science blog and on our Facebook and Twitter
Send your best research to Biomaterials Science.
Sign up to be a reviewer for Biomaterials Science.
Thank you for your continued interest in and support of Biomaterials Science. We look forward to seeing what 2023 brings!