Spinal cord injury (SCI) can be categorized as traumatic (90% of cases) or non-traumatic based on its origin. Traumatic SCI occurs when the primary injury is an external mechanical force (arising from traffic accidents, sports, violence etc.,), which damages the spinal cord and initiates a cascade of multiple secondary complications including neuronal/glial death with very slim chances of recovery. Current treatments for SCI are mainly palliative; however, studies involving surgical interventions for reconstructing injured sites via cell implantation have shown promise. Moreover, incorporating cells within engineered biomaterial substrates which act as extracellular matrix (ECM) substitutes not only lowers cell density requirements but also enables more accurate localised transplantation. Both natural and synthetic biomaterials are being investigated in this regard.
Researchers from the UK have recently developed Proliferate®, a macroporous and biodegradable polymer based on cross-linked poly-ε-lysine (pεK) as a biomaterial candidate for SCI implantation. They demonstrate the biocompatibility of the material with CNS cells via in vitro and in vivo studies, both in the original form and on incorporating functional ECM peptides.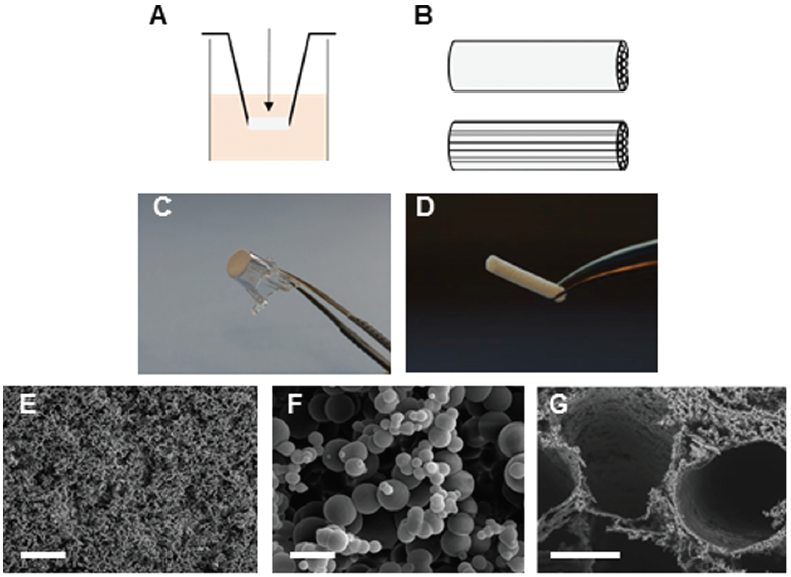 First, they synthesized the polymer in two formats: (i) as inserts suspended in 24-well plate culture wells for in vitro studies and (ii) in tubular form with parallel channels facilitating cell guidance for in vivo studies. The material exhibited a beaded, heterogeneous 3D topography with the porosity capable of being tuned by varying the degree of cross-linking.
Next, they cultured astrocytes on the Proliferate® inserts in vitro and compared  cell morphology with controls grown on PLL-coated coverslips. Staining results showed that the astrocytes adopt a fibrous, ramified morphology typical of in vivo conditions when cultured on the inserts. In addition, the polymer supported differentiation, neuronal survival as well as neurite extension in myelinating cultures; however, myelination was slightly delayed in comparison with coverslip-based controls.
Finally, they implanted the tubular form of the biomaterial into adult rat contusion SCI for in vivo assessment at two timepoints i.e. 7 weeks and 6 months post-implantation. The Proliferate®  implants induced extensive vascularisation and cellular infiltration with no significant difference being observed in microglial response surrounding non-implanted injury cavities and construct-implanted injuries. Although, construct-tissue borders were permissive to astrocyte growth and migration, most cell guidance channels were observed to disintegrate with time and organized axonal growth seen only in intact channels.
Taken together, the results indicate the potential of this novel material, both as a solo implant as well as a substrate for delivery of essential biomolecules to the injury site for facilitation of axonal regeneration following SCI.
To find out more please read:
A novel poly-ε-lysine based implant, Proliferate®, for promotion of CNS repair following spinal cord injury
Sara Hosseinzadeh, Susan L. Lindsay, Andrew G. Gallagher, Donald A. Wellings, Mathis O. Riehle, John S. Riddell and Susan C. Barnett
Biomater. Sci., 2020, 8, 3611-3627, DOI: 10.1039/D0BM00097C