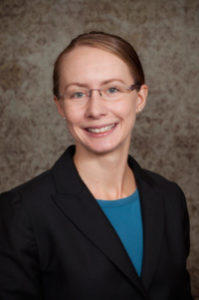 This year we are delighted to award the Lectureship to Professor April Kloxin (University of Delaware). She will present her Biomaterials Science lecture and receive her award at the European Society for Biomaterials Annual Meeting in Dresden, Germany in September 2019.
April Kloxin obtained her B.S. (Summa Cum Laude) and M.S. in Chemical Engineering from North Carolina State University and Ph.D. in Chemical Engineering from the University of Colorado, Boulder, as a NASA Graduate Student Research Program Fellow.  She trained as a Howard Hughes Medical Institute postdoctoral research associate at the University of Colorado before joining the faculty at the University of Delaware in 2011.
Her group aims to create unique materials with multiscale property control for addressing outstanding problems in human health. Her research currently focuses on the design of responsive biomaterials and development of controlled, dynamic models of disease and regeneration.  Her honors include the ACS PMSE Arthur K. Doolittle Award, a Susan G. Komen Foundation Career Catalyst Research award, a NSF CAREER award, and a Pew Scholars in Biomedical Sciences award.
To learn more about April's research, have a look at her recent publications in Biomaterials Science and our sister journals:
Designing well-defined photopolymerized synthetic matrices for three-dimensional culture and differentiation of induced pluripotent stem cells
Elisa M. Ovadia,  David W. Colby  and  April M. Kloxin
Biomater. Sci., 2018,6, 1358-1370
Design of functionalized cyclic peptides through orthogonal click reactions for cell culture and targeting applications (Part of the 2018 ChemComm Emerging Investgators Issue)
 Paige J. LeValley,  Elisa M. Ovadia,  Christopher A. Bresette,  Lisa A. Sawicki,  Emanual Maverakis,  Shi Bai  and  April M. Kloxin 
Chem. Commun., 2018,54, 6923-6926
Design of thiol- and light-sensitive degradable hydrogels using Michael-type addition reactions (Part of the 2015 Polymer Chemistry Emerging Investgators Issue)
Prathamesh M. Kharkar,  Kristi L. Kiick  and  April M. Kloxin
Polym. Chem., 2015,6, 5565-5574
Design of thiol–ene photoclick hydrogels using facile techniques for cell culture applications
Lisa A. Sawicki  and  April M. Kloxin
Biomater. Sci., 2014,2, 1612-1626
Hydrogel scaffolds as in vitro models to study fibroblast activation in wound healing and disease
Megan E. Smithmyer,  Lisa A. Sawicki  and  April M. Kloxin 
Biomater. Sci., 2014,2, 634-650
Please join us in congratulating April on her award!