Natural killer (NK) cells have the intrinsic ability to recognise and eliminate cancer cells along with the potential to inhibit metastasis. NK cells utilize a variety of ways to kill tumor cells, such as stimulating cytokine release, direct cytotoxicity and activating targeted cells apoptosis. Non-small cell lung cancer (NSCLC) has shown significant response to NK cell based immunotherapy in clinical settings. Recently, researchers have begun investigating ways to augment the recruitment and infiltration of NK cells into tumors for improved theranostics. Hence, it is vital to develop non-invasive methods for in vivo control and for the monitoring of the administered NK cells with tissue targeting ability. FDA approved superparamagnetic iron oxide nanoparticles (SPIONs) based magnetic resonance imaging (MRI) contrast agents have been proven biocompatible delivery vehicles and imaging probes for NK cells.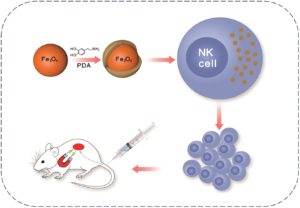 In the present work Jiang et al have synthesized nanoparticles (NPs) composed of a Fe3O4 core and polydopamine (PDA) shell, for tumor theranostics. The aim of this study was to develop magnetic NPs for an immune-cell delivery system to target NSCLC cells. The system stimulated the accumulation of NK cells at the tumor site via the placement of a tiny external magnetic device inside animals. The NK cells actively took up the Fe3O4@PDA NPs due to its physiological stability, while the biology of NK cells was not affected, owing to its biocompatible nature. In vivo studies demonstrated the reduced expression of Ki-67 and the elevated apoptosis of A549 cancer cells upon treatment with Fe3O4@PDA NP-labeled NK cells. Though there are some limitations associated with the invasive approach, the magnetic delivery of NP-NKs can be of promising value in clinical applications.
Tips/comments from the authors:
Coating of magnetic NPs with PDA played a vital role in its cellular uptake, as surface modification is an essential factor in the determination of the biocompatibility and the cellular absorption of magnetic NPs.
Due to the biocompatible nature of magnetic NPs, even high concentrations (100 μg/mL) did not induce apoptosis of NK cells.
With improved retention over time the delivery of Fe3O4@PDA NP-labeled NK cells can be expedited to the tumor via application of local magnetic field.
The position of the tumor and the implanted magnetic field should be close enough, while sufficient time should be given to the magnetic field for the achievement of potent therapeutic effect.
The non-invasive nature of three-dimensional (3-D) rotating magnetic fields or high gradient magnetic fields can enhance the magnetic strength in a central point for the effective accumulation of NPs.
Read the full article here: Magnetic delivery of Fe3O4@polydopamine nanoparticle-loaded natural killer cells suggest a promising anticancer treatment Biomater. Sci., 2018,6, 2714-2725
About the web writer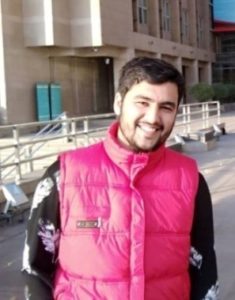 Muhammad Ovais is a Web Writer for Biomaterials Science. Currently, he is a PhD candidate in Prof. Chunying Chen Lab at CAS Center for Excellence in Nanoscience, CAS Key Laboratory for Biomedical Effects of Nanomaterials and Nanosafety, National Center for Nanoscience and Technology (NCNST), Beijing. His research interest lies in the development of novel nano-delivery systems for cancer immunotherapy. He has published a total of ~30 research/review articles. You can find or contact him on ResearchGate, LinkedIn and Chunying Chen's lab
Contact Email: movais@bs.qau.edu.pk
Twitter: https://twitter.com/OVAISBiotec