The geometry of micro- or nano-materials determine their physico-chemical properties and play crucial roles in directing an array of in vivo biological activities. Historically, the significance of micro-/nano-geometry for biomaterials has not been adequately appreciated due to the limitations in manufacturing techniques. Recent years have witnessed the exponential growth of micro-/nano-fabrication technologies which allow closer scrutiny of the relationship between the micro-/nano-geometry and the biological effects of materials. This month the focus is on three articles published in Biomaterials Science reporting the recent advances to achieve controlled micro-/nano-geometry of biomedical devices including microdisks, nanosheets, and microcapsules.

1. Advanced manufacturing of microdisk vaccines for uniform control of material properties and immune cell function
Qin Zeng, Peipei Zhang, Xiangbin Zeng, Lisa H. Tostanoski and Christopher M. Jewell
Biomater. Sci., DOI: 10.1039/c7bm00520b
The heterogeneity in the geometry and loading level represents one major drawback of synthetic vaccine constructs. Therefore, taking advantage of the facile and flexible technique of soft lithography, the authors designed and fabricated PLGA microdisks with controllable dimension and payload loading. Compared to the conventional PLGA microparticles made by emulsion, microdisks possessed highly uniform diameter with less variation. Importantly, microdisks could safely co-deliver vaccine antigen and molecular adjuvants to primary dendritic cells. As a result, dendritic cells could be activated according to the composition of antigen and adjuvants. This controllable and programmable microdisk system will serve as platform to probe the relationship between the vaccine design parameters and immune responses in vivo.
2. The biodistribution, excretion and potential toxicity of different-sized Pd nanosheets in mice following oral and intraperitoneal administration
Xiaolan Chen, Jingchao Li, Yizhuan Huang, Jingping Wei, Duo Sun and Nanfeng Zheng
Biomater. Sci., 2017, 5, 2448. DOI: 10.1039/c7bm00769h
To elucidate the in vivo behaviors of Pd nanosheets (NSs), the authors synthesized size-specific Pd NSs (with 5 nm, 30 nm, or 80 nm in diameter) by controlling the chemical reaction conditions. Those NSs were then administrated via oral feeding or intraperitoneal injection to reveal different biodistribution, excretion, and toxicity profiles of those size-specific NSs. Interestingly, when intraperitoneally delivered, larger sized Pd NSs (80 nm) had higher accumulation in liver and spleen than the smaller sized Pd NSs (5 nm), which had higher accumulation in tumor tissue. In addition, the smaller sized NSs (5 nm) exhibited more excretion through urine than larger sized Pd NSs (30 and 80 nm). Overall, this study indicated that the size of nanomaterials could have significant influence on their biodistribution and bioavailability in vivo.
3. Development of drug-loaded polymer microcapsules for treatment of epilepsy
Yu Chen, Qi Gu, Zhilian Yue, Jeremy M. Crook, Simon E. Moulton, Mark J. Cook and Gordon G. Wallace
Biomater. Sci., 2017, 5, 2159. DOI: 10.1039/c7bm00623c
To achieve the goal of developing controllable local delivery system for treating epilepsy, the authors developed drug-loaded PLGA based microspheroids, microspheres, and microfibers by tuning the solution concentration during electrojetting (electrospinning and/or electrospraying) process. All the resultant microcapsules had excellent shape and size uniformity with high controllability and low variance. Different microcapsule geometry led to various sustained drug release profiles in vitro without compromising their cytocompatibility. This study highlighted the potential of programmable and controllable delivery system and suggested the potential role of geometry in controlling the drug release profile of micron-sized biomedical device.
Read these articles for free until 3 February
About the webwriter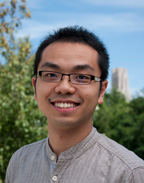 Yingfei Xue is a web writer for Biomaterials Science. Currently, he is a PhD candidate and graduate student researcher in Dr. Shilpa Sant lab at the University of Pittsburgh, USA.  His research focus on nano-/micro-technology in novel heart valve therapy. Find him on Twitter: @Phil_Xue  or connect with him on ResearchGate.