Developing nanoparticle formulations that can deliver drugs more effectively to the target sites with enhanced efficacy and reduced side effects has been an overarching goal in the field of nanobiotechnology. Dendrimers, micelles, and liposomes represent three major classes of nanoparticles that have shown promising results in drug delivery and bio-sensing.  Each type of nanoparticle has its own strengths and limitations in terms of the desirable payload, site of action, duration of action, release profile, and dosing frequency. Therefore, it is imperative to engineer these classical nanoparticle delivery systems for specific drug delivery application.

This month we focus on four articles published in Biomaterials Science reporting the recent advances in leveraging those different nanoparticle delivery systems for efficient, controlled, and targeted delivery of therapeutic agents.
1. Nucleobase-modified polyamidoamine-mediated miR-23b delivery to inhibit the proliferation and migration of lung cancer
Haobo Han, Jiebing Yang, Yudi Wang, Wenqi Chen, Jiawen Chen, Yan Yang and Quanshun Li
Biomater. Sci., 2017, 5, 2268. DOI: 10.1039/c7bm00599g
In the current study, the authors aimed to further improve the transfection efficiency and biocompatibility of conventional polyamidoamine (PAMAM) dendrimers. To this end, the surface of PAMAM was chemically modified with 2-amino-6-chloropurine. This modification further enhanced the carrier/DNA interaction via the fine balance of hydrogen bonding and electrostatic interaction. Compared to the prototype PAMAM, the modified PAMAM demonstrated higher transfection efficiency. In an in vitro model, this gene carrier delivered miR-23b, a potent anti-proliferative and anti-invasive agent, more efficiently into A549 cancer cells, indicating the potential of this carrier in cancer nanotherapy.
2. Novel poly(vinyl alcohol)-based amphiphilic nanogels by non-covalent boric acid crosslinking of polymeric micelles
Hen Moshe, Yuval Davizon, Maya Menaker Raskin and Alejandro Sosnik
Biomater. Sci., 2017, 5, 2295. DOI: 10.1039/c7bm00675f
Poor physical stability often presents as a major drawback for polymeric micelles. The authors addressed this issue by non-covalent crosslinking of a poly(vinyl alcohol) (PVA) based polymeric micelles system with boric acid. Compared to the non-crosslinked control, this novel micelles demonstrated improved physical stability under harsh environment. More interestingly, these micelles could be spray-dried and efficiently consolidated into dry powders which were able to regenerate back into the original nanoparticles upon re-dispersion. This non-covalently crosslinked micelles also maintained good mucoadhesiveness and cytocompatibility.
3. Codelivery of sorafenib and GPC3 siRNA with PEI-modified liposomes for hepatoma therapy
Weitong Sun, Yong Wang, Mingyue Cai, Liteng Lin, Xiaoyan Chen, Zhong Cao, Kangshun Zhu and Xintao Shuai
Biomater. Sci., 2017, 5, 2468. DOI: 10.1039/c7bm00866j
Combination therapy using chemotherapeutic drugs and siRNA represents a promising strategy that can potentially induce and/or enhance the synergistic anticancer effects. To overcome the individual drawbacks of sorafenib and gene therapy, the authors developed a PEI based liposome system which allow the co-delivery of GPC3 siRNA and hydrophobic sorafenib molecule. The drug loaded liposomal delivery system displayed enhanced anticancer effects by suppressing the expression of the anti-apoptotic GPC3 gene and the proliferative cyclin D1 gene simultaneously in human hepatocellular carcinoma (HCC) HepG2 cells. Further, the improved therapeutic effects of this delivery system was demonstrated in an in vivo xenograft model.
4. Dimeric camptothecin-loaded RGD-modified targeted cationic polypeptide-based micelles with high drug loading capacity and redox-responsive drug release capability
Zhaopei Guo, Xingzhi Zhou, Mengze Xu, Huayu Tian, Xuesi Chen and Meiwan Chen
Biomater. Sci., 2017, 5, 2501. DOI: 10.1039/c7bm00791d
To tackle the low bioavailability problem of camptothecin, the authors devised a novel polymeric micelles system composed of cationic polypeptide poly-lysine-block-poly-leucine, polyethylene glycol (PEG), and arginine-glycine-aspartic acid (RGD) peptide. The micelles system increased drug encapsulation efficiency, drug loading capacity, and physical stability of camptothecin. The RGD moiety further enhanced the intracellular uptake of micelles due to the cellular targeting capability of RGD sequence. Importantly, the drug loaded micelles effectively inhibited the proliferation of malignant MDA-MB-231 breast cancer cells by inducing cellular apoptosis and decreasing mitochondrial membrane potential.
Read these articles for free until 10 January 2018

About the webwriter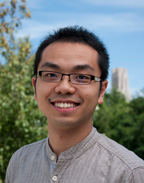 Yingfei Xue is a web writer for Biomaterials Science. Currently, he is a PhD candidate and graduate student researcher in Dr. Shilpa Sant lab at the University of Pittsburgh, USA.  His research focus on nano-/micro-technology in novel heart valve therapy. Find him on Twitter: @Phil_Xue or connect with him on ResearchGate