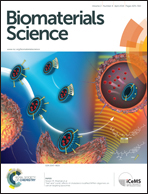 We are pleased to announce that Biomaterials Science's first official Immediacy Index is 0.890– fifth highest for all the journals in the Materials Science, Biomaterials category, according to the 2013 Journal Citation Reports®.
Immediacy Index is a measure of how quickly articles in a journal are cited, and is calculated as the average number of citations articles receive in the year they are published.  Our high number and ranking indicate that, even as a new journal, Biomaterials Science is making a splash in the community.  We would like to thank all our readers, authors and board members for their contribution to the early success of the journal.
Biomaterials Science will receive its first (partial) Impact Factor next year in the 2014 Journal Citation Reports®. For the latest Impact Factors of other Royal Society of Chemistry journals, take a look at this blog post.
We recommend these highly cited Biomaterials Science articles
Montserrat Colilla, Blanca González and María Vallet-Regí
Mischa Zelzer, Simon J. Todd, Andrew R. Hirst, Tom O. McDonald and Rein V. Ulijn
Pingping Han, Chengtie Wu and Yin Xiao