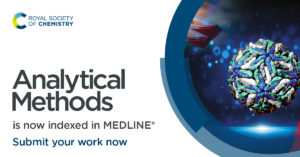 We're pleased to announce that Analytical Methods is now indexed in MEDLINE®. This means that all articles published in Analytical Methods will now be discoverable in this key database for biomedical researchers.
MEDLINE® is a bibliographic database owned by the U.S. National Library of Medicine®, and is the primary component of PubMed®.
Analytical Methods continues to publish early applications of new analytical methods and technologies demonstrating potential for societal impact.
Submit your work now! rsc.li/methods