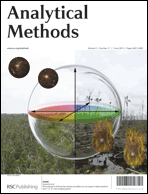 The latest Issue of Analytical Methods is now available online.
Our outside front cover features the interesting work of Kazuto Sazawa and his team from the University of Toyama, Japan. In their paper, the rearchers evaluate the effect of forest fires on soil color using the CIE Lab system, the international standard system for color measurements in food, textiles and plastics. According to this study, the proposed method is useful to evaluate the effect of heat on Indonesian peat soil, forest soil, highmoor peat and peatmoss, and is especially indicated for the evaluation of soil that contains a high ratio of organic matter such as peat soil.
The evaluation of forest fire severity and effect on soil organic matter based on the L*, a*, b* color reading system
Kazuto Sazawa, Takatoshi Wakimoto, Noriko Hata, Shigeru Taguchi, Shunitz Tanaka, Masamoto Tafu and   Hideki Kuramitz 
Anal. Methods, 2013,5, 2660-2665
DOI: 10.1039/C3AY26251K
Also free for your is this paper from the Analyst Advisory Board Member Jill Venton on a new method to detect low concentrations of dopamine, serotonin and adenosine in tissues.
Quantitation of dopamine, serotonin and adenosine content in a tissue punch from a brain slice using capillary electrophoresis with fast-scan cyclic voltammetry detection
Huaifang Fang, Megan L. Pajski, Ashley E. Ross and   B. Jill Venton
Anal. Methods, 2013,5, 2704-2711
DOI: 10.1039/C3AY40222C
In addition, take a look at the two HOT articles below. These papers will be free to read until June 10th.
Identification of bacteria in drinking water with Raman spectroscopy
Jack van de Vossenberg, Heli Tervahauta, Kees Maquelin, Carola H. W. Blokker-Koopmans, Marijan Uytewaal-Aarts, Dick van der Kooij, Annemarie P. van Wezel and   Bram van der Gaag   
Anal. Methods, 2013,5, 2679-2687
DOI: 10.1039/C3AY40289D
Protein–polyphenol interaction on silica beads for astringency tests based on eye, photography or reflectance detection modes
J. Rafaela L. Guerreiro, Duncan S. Sutherland, Victor De Freitas and   M. Goreti F. Sales
Anal. Methods, 2013,5, 2694-2703
DOI: 10.1039/C3AY26478E