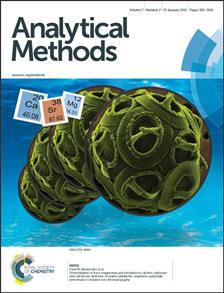 You are invited to contribute to the joint Analyst and Analytical Methods themed collection showcasing the latest discoveries and developments in food authenticity and integrity; including the analysis and detection of food fraud, contamination, adulteration and spoilage.
For your article to be considered for the themed collection we must receive your manuscript by 13 July 2015.
Guest Edited by Professor Roy Goodacre and Dr David Ellis at The University of Manchester, this upcoming collection will showcase the latest developments on food analysis by leading researchers from academia, industry and government departments.
As you are no doubt aware the recent horsemeat scandal throughout Europe rocked the food industry and this precipitated the recent Elliott review. History across the globe reminds that our food is under constant threat from adulteration and previous examples include: melamine in milk, dioxins in pork, and microbial pathogens. Adulteration, contamination and spoilage of food has therefore always been an international problem and there is a constant requirement for analytical methods to be developed in order to assess the food we, our companion animals and veterinary animals consume.
Submissions are welcome to both Analyst and Analytical Methods for the themed collection which will include research and reviews across the fundamental and applied analytical sciences.
Please don't hesitate to contact us if you are interested in submitting a Communication, full paper or review article for the collection, or if you would like more information about the journals or themed collection