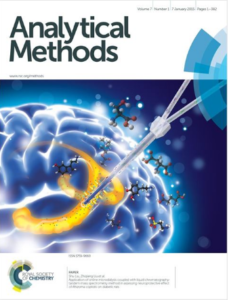 Analytical Methods has launched a themed collection focusing on bioanalytical sensors for real world applications.
This collection aims to publish papers in which sensors have been used to measure analytes in complex matrices, using robust technologies and with high sensitivity and specificity. The scope of this collection is intentionally broad to cover a broad range of applications both biomedical and environmental. Work which describes challenges in sensing of complex analytes or sensing analytes in complex matrices and how these challenges have been overcome is particularly welcome.
Guest Editors 
This collection is co-guest edited by Assistant Professor Charlie Mace (Tufts University, USA), Dr Aoife Morrin (Dublin City University, Ireland) and Associate Professor Rebecca Whelan (University of Notre Dame, USA).
Charlie Mace                                                  Aoife Morrin                                                     Rebecca Whelan
Submission deadline: 31st December 2019
Contribute to this collection
We welcome submissions of original research and review articles. Articles will be added to the collection as they are accepted and the resulting issue will benefit from extensive promotion.
About Analytical Methods
Guided by Editor-in-Chief Scott Martin and an international team of Associate Editors and Editorial Board members, Analytical Methods welcomes early applications of new analytical methods and technology demonstrating potential for societal impact. The journal requires that methods and technology reported in the journal are sufficiently innovative, robust, accurate, and compared to other available methods for the intended application. Developments with interdisciplinary approaches are particularly welcome. Systems should be proven with suitably complex and analytically challenging samples. For more information about the journal or its scope, please visit the journal website.
Interested in contributing?
Email methods-rsc@rsc.org