We are delighted to draw your attention to the recent Analytical Methods themed collection highlighting work on electrochemistry for health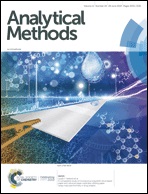 applications. This collection focuses electrochemical sensing, biosensing and applications in diagnostics and monitoring, and neuroelectrochemistry. 
This collection was put together by Guest Editors Jill Venton (University of Virginia, USA), Craig Banks (Manchester Metropolitan University, UK) and Tony Killard (University of West England, UK), who worked hard to create this issue and ensure that its content was of the highest quality. An Editorial by the Guest Editors prefaces the collection.
Read the full collection now: https://rsc.li/electrochem-for-health
All papers in the collection are free to access until the end of July 2019 with an RSC Publishing Account.
We hope you enjoy reading the full collection. Take a look at a small selection of excellent articles featured in the collection below:
Critical Review
Susana Campuzano, María Pedrero, Araceli González-Cortés, Paloma Yáñez-Sedeño and José M. Pingarrón
Critical Review
Yangguang Ou, Anna Marie Buchanan, Colby E. Witt and Parastoo Hashemi
Minireview
Nianzu Liu, Zhenying Xu, Aoife Morrin and Xiliang Luo
Paper
Jimin Yang, Xuesong Yin and Wei Zhang
Paper
Ling Li, Wuhua Guo, Yao Lin, Dianping Tang and Jingfeng Liu
Paper
Joseph M. Siegel, Kelci M. Schilly, Manjula B. Wijesinghe, Giuseppe Caruso, Claudia G. Fresta and Susan M. Lunte
Keep up to date with 
Analytical Methods
 throughout the year by 
signing up
 for free table of contents alerts and monthly e-newsletters.