We are delighted to introduce our first Analytical Methods Emerging Investigator, Chris Baker!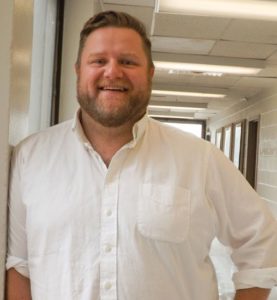 Dr Christopher A. Baker earned his B.S. in Chemistry from Wayne State University in 2007, and his Ph.D. in Analytical Chemistry from Florida State University in 2012. He was a postdoctoral associate at The University of Arizona (2012-2014), and Sandia National Laboratories (2014-2015). Currently, he is an assistant professor in the Department of Chemistry at The University of Tennessee, Knoxville. The Baker Bioanalysis Lab at UTK specializes in separation science and biomimetic sensor technologies. They are developing new micro- and nanotechnologies to help understand cellular signaling processes involved in neuroendocrine disorders and cancer.
Read Chris's Emerging Investigator series paper "Characterization of low adsorption filter membranes for electrophoresis and electrokinetic sample manipulations in microfluidic paper-based analytical devices" and find out more about him in the interview below:
Your recent Emerging Investigator Series paper focuses on the efficacy of zonal electrophoresis in microfluidic paper-based analytical devices. How has your research evolved from your first article to this most recent article?
The majority of my research, going back to the start of my training, has focused on microfluidic instrumentation and separation science, and these are still two core themes of the research program we're building at UTK. As a grad student, I used to think a lot about how to use microfabrication to produce complex devices for intricate fluid manipulations. My first paper described an electrophoresis device with integrated electrokinetic fraction collection, which was a gnarly-looking microfluidic chip that operated via a jumble of high voltage wires. In this latest article, we're thinking about ways to make microfluidic instrumentation more widely accessible, which in our lab means reducing materials costs and utilizing fabrication techniques that are affordable and widely available. The devices we describe in the current article are much simpler in capability, offering just the basic functions of sample injection and electrophoretic separation, but the trade-off comes in how simple and affordable they are to produce. In my early work we used photolithography to produce devices that cost on the order of $50 per device. The electrophoresis devices in the current article can be produced using a pair of scissors, and each one costs substantially less than $1.
What aspect of your work are you most excited about at the moment?
I think that microfluidics will play a significant role in the move towards personalized medicine. As we continue to develop tools and techniques that lower the cost barriers and increase access to microfluidic technologies, I'm hopeful that we'll be helping to accelerating the transition to personalized and, perhaps more importantly, affordable and accessible healthcare.
I have a really talented team of dedicated students, and they're working on a lot more than just making microfluidics more cost effective and accessible. Much of our work focuses on addressing challenging questions in neuroendocrinology by developing new technologies for bioanalysis. I'm really excited that on our way to developing these new technologies, we're finding powerful intersections between new bioanalytical capabilities and affordable, accessible technologies.
In your opinion, what are the key design considerations for developing effective microfluidic paper-based analytical devices?
Let me confess, I am brand new to the world of μPADs, so there are far more qualified opinions on this matter. That said, our focus in this area has been on incorporating electrokinetic mechanisms into μPADs, which is an emerging area that comes with some unique design considerations. I think the two most important considerations are discussed in the current article, and they are: 1) Appropriate heat dissipation – Joule heating in these devices is no joke! We've repeatedly had paper devices burst into flames at field strengths less than 100 V cm-1. Thankfully, these are very small devices, so it's more like a birthday candle than a barn fire; and 2) Paper substrate selection – we show in this article that paper composition can have major effects on device performance. Most notably these come in the form of electroosmotic flow effects and sample adsorption. I think there's a lot of work still left to be done on characterizing the wide array of available substrate materials.
What do you find most challenging about your research?
I think the work we're doing is so much fun, and that includes the technological and experimental challenges that come along with any research. I'm extremely enthusiastic about our science, and I always want to know more about the technologies we're developing or the biology we're studying. This can lead to a major challenge for me, though. I'm never satisfied that we're done studying something and we're ready to write up a manuscript to tell the story. By the time the "last" experiment is done, my interest is already piqued for the next experiment, and then the experiment after that, and so on. I've actually had to tell my students "The next time I ask you to add another experiment to this paper, just remind me that it's an experiment for the next paper." They're usually pretty good at keeping me in check on this one!
How do you spend your spare time?
My wife and I are expecting a baby any day now, so I'm anticipating that spare time will be in short supply for a while. When I do have the chance, I like to split my time between a few hobbies. I have an old truck in my garage, a 1966 Dodge A100, and I'm converting it to an electric vehicle. I'm an aspiring woodworker, photographer, computer coder, and general maker of things. My wife and I are both musicians, so we play jazz (and occasionally bad 90s music) together. We travel a lot. We love to take road trips all over the western U.S., and we never miss a chance to spend time in Tucson, AZ, which is where we met.
Which profession would you choose if you were not a scientist?
That's tricky. I tend to imagine other careers in science and engineering (astronomer, computer programmer, Starfleet officer, etc.) I'd like to run a microbrewery, but that's just microbiology with delicious by-products. Being a jazz vibraphonist would be fun, but musicians are mathematicians working in base 12. Shucks, I guess that means there are no non-science careers for me.
Can you share one piece of career-related advice or wisdom with other early career scientists?
Science is a creative profession, and creativity is a skill that requires practice. Imposter syndrome is a very real thing when you're starting out, and I think it can push you to emulate rather than innovate. Of course, there's nothing wrong with following practices that have worked for people you admire professionally, everyone does it, but emulation isn't a particularly creative approach. My advice would be to find opportunities in your work to exercise your creativity, and give yourself permission to do things your own way. I've practiced this starting from small details of office management and built up all the way to big picture aspects of how we've designed our research program, and it's been a major factor in getting past my feelings of imposter syndrome.