'Newton Fund Researcher Links Workshop' will be held at the Indian Institute of Technology, Kanpur, India, from 6th – 8th November, 2017.
The 'Newton Fund Researcher Link Workshop' provides opportunities for early career researchers from the UK and internationally to interact, learn from each other and explore opportunities for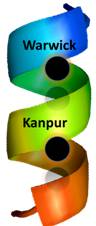 building long-lasting research collaborations. As part of this programme, early career researchers are now being recruited to participate in the workshop.
The workshop will provide a unique opportunity for sharing research expertise and networking. During the workshops, early career researchers will have the opportunity to present their research in the form of a poster/short oral presentation and discuss this with established researchers from the UK and partner countries. There will be a focus on building up links for future collaborations and participants selected on the basis of their research potential and ability to build longer term links.
The Newton Fund will cover the costs related to the participation to the workshop, including: travel (both international and local), accommodation and meals. Costs for the visa will be covered; however, participants will be responsible for making all the necessary arrangements. Although this cost will not be covered by the Newton Fund participants are encouraged to purchase an adequate travel and medical insurance.
Registration deadline: 31 July 2017