We are delighted to announce the appointment of Professor Juewen Liu as our newest Associate Editor on the Editorial Board.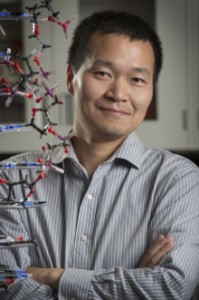 ---
Professor Liu is Associate Professor at the University of Waterloo, Canada and is an expert in nanotechnology, targeted drug delivery and nanomedicine. He has a particular interest in using DNA and lipids as functional polymers and building blocks to interface with nanoparticles and hydrogels utilised for bioanalytical techniques. Applications include detecting heavy metals instantly in water samples and targeted drug delivery.
---
We welcome Juewen Liu and his expertise to the Analytical Methods Editorial Board as Associate Editor alongside our nine existing Associate Editors. This appointment strengthens the Editorial Board, with all papers handled by an expert in the field. Submit your paper to Professor Liu today!
You can keep up to date with the latest developments from Analytical Methods by signing up for free table of contents alerts and monthly e-newsletters.