The new joint themed issue of Analyst and Analytical Methods on detecting food authenticity and integrity is now published.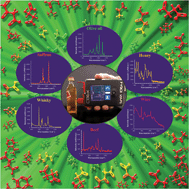 Guest edited by Professor Roy Goodacre and Dr David Ellis at the University of Manchester, this collection showcases the latest developments in food analysis, including the analysis and detection of food fraud, contamination, adulteration and spoilage, by leading researchers in academia, industry and government.
If you are interested in this important and topical area of research, discover the latest analytical breakthroughs in this special themed issue.

The following papers from the issue are free to access for the next four weeks – food for thought!
Point-and-shoot: rapid quantitative detection methods for on-site food fraud analysis – moving out of the laboratory and into the food supply chain
David I. Ellis, Howbeer Muhamadali, Simon A. Haughey, Christopher T. Elliott and Royston Goodacre
Anal. Methods, 2015, 7, 9401-9414
DOI: 10.1039/c5ay02048d
Development of a real-time PCR approach for the relative quantitation of horse DNA
Gavin J. Nixon, Timothy M. Wilkes and Malcolm J. Burns
Anal. Methods, 2015, 7, 8590-8596
DOI: 10.1039/C5AY01867F