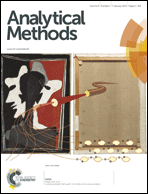 We are delighted to announce the latest impact factor for Analytical Methods is 1.821 according to the 2014 Journal Citation Reports ®.
We would like to thank all of our authors, referees, Editorial and Advisory Board members for their contributions to the success of Analytical Methods.
Submit your best work to Analytical Methods today.
*The Impact Factor provides an indication of the average number of citations per paper. Produced annually, Impact Factors are calculated by dividing the number of citations in a year by the number of citeable articles published in the preceding two years. Data based on 2014 Journal Citation Reports®, (Thomson Reuters, 2015).