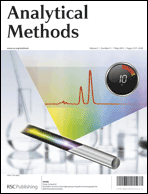 Welcome to the latest issue of Analytical Methods!
We have a great new cover and a couple of HOT papers free for you to enjoy for the next four weeks. The outside front cover of this issue showcases the work of Monica Yang from Merck & Co., Inc. USA and colleagues at Eksigent, USA.
In their paper, the researchers present a liquid chromatography instrument for fast HPLC analysis, which provides good separation efficiency and system reproducibility. This system can be used efficiently for pharmaceutical analysis. Indeed, more than a dozen pharmaceutical components and related process impurities were resolved in 10 minutes on the micro LC instrument.
Evaluation of micro ultra high pressure liquid chromatography for pharmaceutical analysis
Monica (Mei) Yang, Xiaoyi Gong, Wes Schafer, Don Arnoldc and   Christopher J. Welch  
Anal. Methods, 2013,5, 2178-2181
DOI: 10.1039/C3AY26435A
Take a look at our HOT papers below, they will be free for you to read until May 21st.
Analytical techniques for single-liposome characterization
Chaoxiang Chen, Shaobin Zhu, Tianxun Huang, Shuo Wanga and   Xiaomei Yan
Anal. Methods, 2013,5, 2150-2157
DOI: 10.1039/C3AY40219C
Electrochemical sensing and biosensing based on square wave voltammetry
Aicheng Chen and   Badal Shah  
Anal. Methods, 2013,5, 2158-2173
DOI: 10.1039/C3AY40155C
DNA-stabilized silver nanoclusters with guanine-enhanced fluorescence as a novel indicator for enzymatic detection of cholesterol
Min Duan, Yunlin Peng, Liangliang Zhang, Xiangyu Wang, Jia Ge, Jianhui Jiang and   Ruqin Yu 
Anal. Methods, 2013,5, 2182-2187
DOI: 10.1039/C3AY40118A