Analytical Methods Issue 6 is now available online!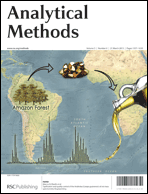 Take a look at our great new cover showing an interesting study coming directly from Brazil.
Marcos Eberlin and his team at the University of Campinas established two simple, fast and accurate techniques to optimise and standardise the quality control of the Andiroba oil, a famous Amazonian oil used as insecticide and analgesic. The team compared two mass spectrometry techniques, direct electrospray ionization mass spectrometry (ESI-MS) and easy ambient sonic-spray ionization (EASI-MS). Both techniques in the positive ion mode could detect adulteration of the Andiroba oil with soybean oil at low levels. According to the study, this method represents a fast and reproducible approach for typification and quality control of this important Amazonian oil.
Typification and quality control of the Andiroba (Carapa guianensis) oil via mass spectrometry fingerprinting
Elaine C. Cabral ,  Georgiana F. da Cruz ,  Rosineide C. Simas ,  Gustavo B. Sanvido ,  Lenise de V. Gonçalves ,  Rodrigo V. P. Leal ,  Regina C. F. da Silva ,  Julio C. T. da Silva ,  Lauro E. S. Barata ,  Valnei S. da Cunha ,  Luiz F. de França ,  Romeu J. Daroda ,  Gilberto F. de Sá and Marcos N. Eberlin
Anal. Methods, 2013, 5, 1385-1391
DOI: 10.1039/C3AY25743F
In addition, check out this informative article on detection of endocrine discruptive pesticides in lemons. Mária Andraščíková and Svetlana Hrouzková from the Slovak University of Technology in Bratislava present a comparative study of three different versions of the quick, easy, cheap, effective, rugged and safe (QuEChERS) method to analyse endocrine disrupting compounds in acidic matrices. They showed that in difficult matrices such as lemons, the choice of modifications is analyte/matrix dependent.
A comparative study of three modifications of the QuEChERS method for determination of endocrine disrupting pesticide residues in lemon matrices by fast GC-MS
Mária Andraščíková and Svetlana Hrouzková
Anal. Methods, 2013, 1374-1384
DOI: 10.1039/C3AY26434C
Finally, remember to take a look at the selected HOT article of this issue! Please access the link below:
A spectrophotometric lipase assay based on substrate–nanoparticle assembly degradation
Margarita Stoytcheva ,  Roumen Zlatev ,  Samuel Behar and Jean-Jacques Bois
Anal. Methods, 2013, 1370-1373
DOI: 10.1039/C3AY00044C