The latest issue of Analytical Methods is now available online. Take a look at our woderful covers and discover all about the new research behind them.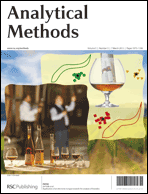 On the outside front cover is an original image from Manel del Valle from the Autonomous University of Barcelona, Spain. The researchers report the analysis of different types of brandy using a voltammetric Electronic Tongue (ET), a promising method previously used for analysis of liquid samples. To date, classification of brandy is performed by a skilled sensory panel. In this study, brandies are classified with high accuracy and efficiency with the voltammetric ET, indicating that this automated method could be an helpful tool to assess quality control standards and identify contaminations.
Application of an electronic tongue towards the analysis of brandies
Xavier Cetó ,  Matias Llobet ,  Joan Marco and Manel del Valle
Anal. Methods, 2013, 5, 1120-1129
DOI: 10.1039/C2AY26066B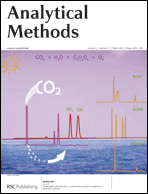 On the inside front cover is an interesting picture showing the work of Rong Xu and colleagues from the Nanyang Technological University, China. The authors present a review on photocatalytic reduction of CO2, a chemical process of particular importance when considering energy and environmental issues. Photocatalytic reduction of CO2 has in fact low efficiency, and the resulting products are still unknown. In this review, current methods to analyse reduction products as well as new proposed analytical techniques are outlined.
Photocatalytic reduction of CO2: a brief review on product analysis and systematic methods
Jindui Hong ,  Wei Zhang ,  Jia Ren and Rong Xu
Anal. Methods, 2013, 5, 1086-1097
DOI: 10.1039/C2AY26270C
In addition to our new covers, here is a selection of HOT articles for you to enjoy. They will be free to read until March 6th. Have a read now!
Notes on the use of Mandel's test to check for nonlinearity in laboratory calibrations
J. M. Andrade and M. P. Gómez-Carracedo
Anal. Methods, 2013,5, 1145-1149
DOI: 10.1039/C2AY26400E
On-site solid phase extraction and HPLC determination of chloramphenicol in surface water and sewage
Sheng Liu ,  Xian-Zheng Wu ,  Zi-Hui Gao and Fang Jiao
Anal. Methods, 2013,5, 1150-1154
DOI: 10.1039/C2AY26162F
Novel separation for the determination of cadmium by isotope dilution ICP-MS in samples containing high concentrations of molybdenum and tin
Robert Q. Thompson and Steven J. Christopher
Anal. Methods, 2013,5, 1346-1351
DOI: 10.1039/C2AY26212F
Using electrochemistry for metabolite simulation and synthesis in preventive doping research: application to the Rycal S107 and the PPARδ-agonist GW1516
Sandra Jahn ,  Simon Beuck ,  Ines Möller ,  Mario Thevis and Uwe Karst
Anal. Methods, 2013,5, 1214-1224
DOI: 10.1039/C2AY00030J