For every new journal , there are several important stages in its early life and development.
Initially there is the announcement of the journal, the appointment of the Editor-in-Chief, Associate Editors and Editorial Board members.
Next comes a flurry of activity including the journal launch event (were you there for the cake?!)
The publication of the first Advance Articles online…
DNA functionalized gold nanoparticles for bioanalysis
Yang-Wei Lin, Chi-Wei Liu and Huan-Tsung Chang
Anal. Methods, 2009, 1, 14-24, DOI: 10.1039/B9AY00036D
Screen printed electrochemical platforms for pH sensing
Dimitrios K. Kampouris, Rashid O. Kadara, Norman Jenkinson and Craig E. Banks
Anal. Methods, 2009, 1, 25-28, DOI: 10.1039/B9AY00025A
Thermo-responsive columns for HPLC: The effect of chromatographic support and polymer molecular weight on the performance of the columns
Farnoosh Roohi, Yasemin Fatoglu and Maria-Magdalena Titirici
Anal. Methods, 2009, 1, 52-58, DOI: 10.1039/B9AY00087A
Continuous flow hollow fiber liquid-phase microextraction and monitoring of NSAID pharmaceuticals in a sewage treatment plant effluent
Niklas Larsson, Estelle Petersson, Marika Rylander and Jan Åke Jönsson
Anal. Methods, 2009, 1, 59-67, DOI: 10.1039/B9AY00015A
A new approach for measuring the redox state and redox capacity in milk
Tomer Noyhouzer, Ron Kohen and Daniel Mandler
Anal. Methods, 2009, 1, 93-99, DOI: 10.1039/B9AY00078J
The first issue….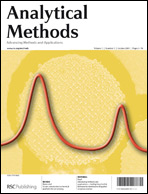 Then there is a slight lull, as the publication of the journal begins to become more established in the minds of the community.
After approximately 18 months to 2 years in the lifetime of a journal, there then comes an increasingly important announcement – the first impact factor. The number which authors and readers really want to know, and increasingly these days, often on which so much depends.
In June of this year, Thomson Reuters released the 2010 Journal Citation Report – their annual updating of journal Impact Factors. There is a vast quantity of information in this Report, however it is this particular metric which everyone rushes to find.
For Analytical Methods, our first impact factor was announced as 1.036. But what does this actually mean?
The 2010 Impact Factors are calculated as the average number of citations per article in 2010, to articles which were published in 2008 and 2009. As the first issue of Analytical Methods was published in October 2009, we only published 3 issues which are included in this calculation – a total of 28 articles.
Additionally, unlike the calculation of a full Impact Factor, where articles have up to 3 years to be read and cited, as these articles were published at the end of 2009, they had a much shorter time in the literature to be available to researchers to reference in future work.
However to date, Analytical Methods has collected 470 citations and we are seeing this number grow rapidly every week. So the signs are good that as the journal has been developing and growing, then we will see future Impact Factors follow suit.