Analyst welcomes Professor Karen Faulds (University of Strathclyde, UK) as our newest Associate Editor.
---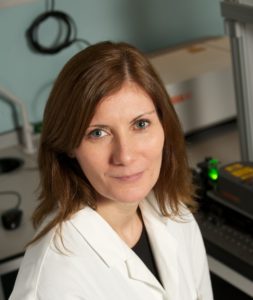 Karen Faulds is a Professor in the Department of Pure and Applied Chemistry at the University of Strathclyde and an expert in the development of surface enhanced Raman scattering (SERS) and Raman techniques for novel analytical detection strategies and in particular multiplexed bioanalytical applications. She has published over 140 peer reviewed publications and has filed 5 patents. She has been awarded over £20M in funding as principal and co-investigator from EPSRC, BBSRC, charities, industry and governmental bodies. Her Groups research has been recognised through multiple awards including the Nexxus Young Life Scientist of the Year Award (2009), Royal Society of Chemistry (RSC) Joseph Black Award (2013), Craver Award (2016) and Charles Mann Award (2019). She is a Fellow of the Royal Society of Chemistry (2012), the Society for Applied Spectroscopy (2017) and the Royal Society of Edinburgh (2018). She has been named as one of the Top 50 Women in Analytical Science (2016), Top 10 Spectroscopist (2017) and Top 100 Influential Analytical Scientists (2019) by The Analytical Scientist. She has given over 90 invited talks at national and international conferences.
She was elected as the first female and youngest Chair of the Infrared and Raman Discussion Group (IRDG) in 2014 which is the oldest spectroscopic discussion society in the UK. She is an appointed member of the Royal Society of Chemistry (RSC) Chemical Biology Interface Division Council and a member of the Federation of Analytical Chemistry and Spectroscopy Societies (FACSS) Governing Board and a member of the International Steering Committee of the International Conference on Raman Spectroscopy (ICORS). She is the Strathclyde Director of the EPSRC and MRC Centre for Doctoral Training in Optical Medical Imaging joint between the Universities of Edinburgh and Strathclyde, serves on the editorial board of RSC Advances and the editorial advisory board for Analyst, Chemical Society Reviews and Analytical Chemistry.
---
Read some of Karen's recent Analyst papers here:
DNA detection by SERS: Hybridisation parameters and the potential for asymmetric PCR
DOI: 10.1039/c9an01732a
Detection of cardiovascular disease associated miR-29a using paper-based microfluidics and surface enhanced Raman scattering
DOI: 10.1039/c9an01748h
Surface enhanced resonance Raman spectroscopy (SERRS) for probing through plastic and tissue barriers using a handheld spectrometer
DOI: 10.1039/c8an01249k
Development of a label-free Raman imaging technique for differentiation of malaria parasite infected from non-infected tissue
DOI: 10.1039/c7an01760j
---
Karen also served as a Guest Editor for Analyst's recent Analytical Nanoscience themed collection. You can read the collection here.
---
Submit your best work to Karen now!