Graphene and graphene oxide are among the recent attractions in novel nanomaterials for electronic and composite applications. Structure of graphene can simply be viewed as taking a single walled carbon nanotubes and unrolling it to give a sheet.
History of graphene runs all the way back to the 19th century but the very first single layer graphene was synthesized in 2004, by Andre Geim and Kostya Novoselov at The University of Manchester, UK. Graphene can be synthesized to contain a single layer or multiple layers. Nanoscience and nanotechnology community has always been very excited about the remarkable electrical and heat conductivity of these materials and a significant influx of graphene into the composite and electronic markets are being anticipated.
There are raising concerns about environmental and health risks of these materials with this increasing usage as there are no established methods for their extraction from complex matrices and quantification. Therefore, Kyle Doudrick and co-workers from the University of Notre Dame and Arizona State University have successfully developed an extraction and quantification method for graphene and graphene oxide from biomass using in situ reduction method followed by detection with programmed thermal analysis (PTA).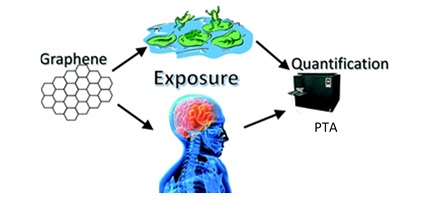 PTA is known to determine the carbon mass based on the thermal stability. In this study, the separation was achieved by subjecting the samples to a time dependent temperature ramp program where the less thermally stable carbon compounds evolved early in the program and the high thermally stable compounds were evolved later. Graphene, which has a high thermal stability was therefore easily separated from rest of the components in the biomass. In order to obtain similar separation for graphene oxide that has a higher oxygen content, which limits the separation, an in situ reduction was conducted using sodium borohydride.
Since this makes the graphene oxides more hydrophobic forcing aggregation an efficient separation and extraction was expected. The results of the study has proved that this technique is capable of recovering 52 ± 8% and 80 ± 6% of few layer graphene (FLG) and graphene oxide (GO) from dried biomass, respectively. Therefore, this technique can be applied to the extraction of graphene from complex organic matrices used in nanotoxicological studies.
To access the full article, download a copy for free* by clicking the link below:
Quantification of graphene and graphene oxide in complex organic matrices
Kyle Doudrick, Takayuki Nosaka, Pierre Herckes, Paul Westerhoff
Environ. Sci.: Nano, 2015,2, 60-67
DOI: 10.1039/C4EN00134F
—————-
About the webwriter
Imali Mudunkotuwa is a Postdoctoral Scholar and Research Assistant at The University of Iowa. She is interested in nanoscience, physical and surface chemistry. You can find more articles by Imali in her author archive .
—————-
* Access is free through a registered RSC account